How to Use a Hawkeye Laser Level
A laser level is a helpful tool for a multitude of household projects. The Mastercraft Hawkeye all-angle laser level, sold in Canada at Canadian Tire, is designed to help users get the job done correctly and quickly. Its case is molded in blue plastic, it has a 360-degree swiveling base, laser projection from one end and can be mounted directly to a wall or other surface. As of 2010, the Hawkeye laser level sold for $19.99.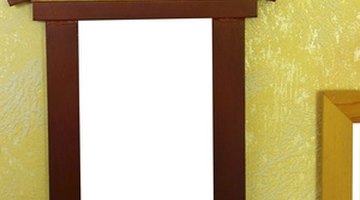 Place the Hawkeye laser level on a flat surface, such as a wall. This tool is ideal to use to hang multiple objects in a straight line. It is more effective than a traditional torpedo-style level because it can be set up once and left for the duration of the project.

Adjust the level until its bubbles are showing that it is perfectly level, either horizontally or vertically. Once you've leveled it, hold it firmly in place against the wall.

Push two tacks through the level's mounting holes. The tacks will sink into the drywall and hold the level in place on the wall. If using the level on a wall that is too hard to puncture with tacks, have an assistant hold the level in place. If you're working on a wall with metal framing, the magnetic panel on the bottom of the level may hold it in place.

Press the laser level's power button to send a laser beam across the wall. The laser line will provide you with a constant line, allowing you to make several nail holes to mount multiple picture frames in a straight line, for example.

Turn the laser level on its 360-degree base if you wish to create a laser line that is any angle other than horizontal or vertical. This application may be helpful if you wish to hang multiple objects in a 45-degree angle line, such as up a staircase.
Check out this related video from Homesteady on Youtube.
References
Tips
The laser level includes a bracket to mount it to a standard camera tripod. If applicable, you can mount the level on a tripod and aim it at the wall.
Warnings
Never look directly into the laser beam, and don't aim it at anyone else. Wear tinted safety goggles while working with a laser level.
Writer Bio
Toronto-based journalist William McCoy has been writing since 1997, specializing in topics such as sports, nutrition and health. He serves as the Studio's sports and recreation section expert. McCoy is a journalism graduate of Ryerson University.
Photo Credits
More Articles