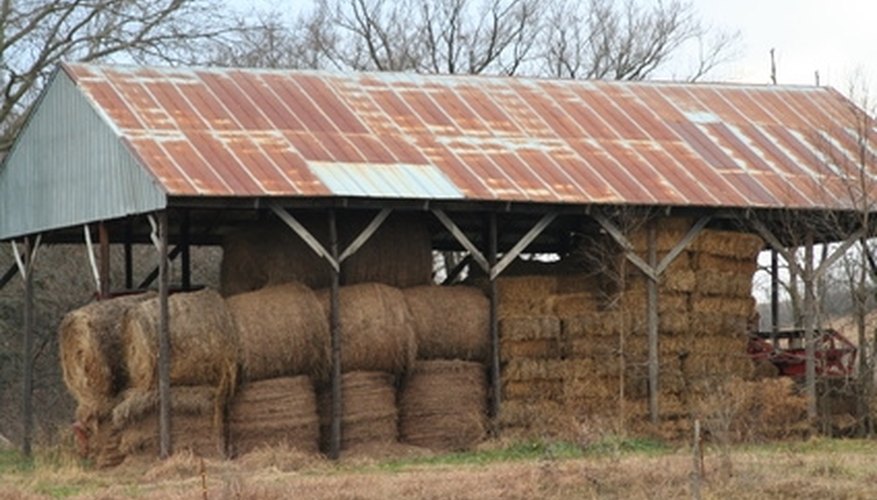 It is much easier to build than a traditional frame structure. You can build it according to your particular needs and specifications. With the material listed below, follow these easy steps to make your own pole barn.
Choose the location of the pole barn. Select a smooth area which is not bumpy or rocky. The site should also be well drained. Draw your outline for the structure. Mark its dimensions clearly. Obtain permits from your local building authority, if required, to build the structure.
Purchase all the material you need according to your plan dimensions. Use a shovel to dig holes for your poles. Position the holes to ensure that all corners are at 90-degree angles. Fit a single stake in the center of each hole.
Install the poles into the openings at a perfectly vertical angle and set them in concrete. Make sure they are firmly set.
Attach stringers to the pole's upper part. These help support the roof. Join the roof trusses to the cover of your structure using strong rope. Attach the initial truss with the use of rope and then join the other trusses with the initial truss. Add small lumber portions to the trusses to keep them in place. Nail them in place.
Use tin to construct the roof. Attach the tin to the top of the structure. Secure the tin with roofing screws that have neoprene skirts. The skirt prevents leaks. Make sure the screws are tight as you do not want the roof to collapse later. Overlap the tin sheets to prevent leaking seams. Install a small tin crown at the center of your roof.
Erect the walls if your plans call for them. Use plywood for the actual fortifications. Your main structure is done. Install any other parts you have planned for your pole barn, such as a door or any finishing that you want to add.
Things You Will Need

Wood
Shovel or hoe
Saw
Nails
Hammer
Concrete
Poles
Roof trusses
Tin
Tips
Be careful when operating power tools and saws.

Make sure all estimates of the dimensions of the structure are correct. Always measure twice before cutting. A small miscalculation can cause an extremely imbalanced structure.