How to Kill Bees in Your Ceiling
Depending on how long bees have been in the ceiling can help you determine if you have a small hive or a large one with thousands of bees. Use caution when removing the hive and work only in the early morning or evening when bees sleep. If the hive is large, you may want to call an exterminator rather than attempt to remove the hive yourself. Removing a beehive involves care and preparation. It is very important to use protective gear and be safe when removing bees.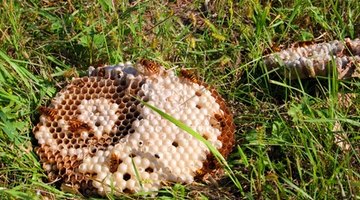 Wait until early morning or evening when bees are asleep.

Drill several small holes (1/8 inch in diameter) into the nest.

Using the bottle, puff the insecticide dust through the holes.

Once bees are dead, remove nest.

Seal nest entrance with caulk so new bees can't enter.

Remove honeycomb so new bees (or other bugs such as beetles) aren't attracted into the ceiling.
References
Tips
If possible, wait until freezing weather to remove nest for added safety.
Be sure the honeycomb is removed even if using an exterminator to make sure the bees don't return.
Writer Bio
Melissa Hamilton began writing professionally in 2007. She has enjoyed cooking creatively in the kitchen from a young age. In addition to writing cooking articles for various publications, she currently works in the restaurant industry as a food and beverage trainer.
Photo Credits
More Articles