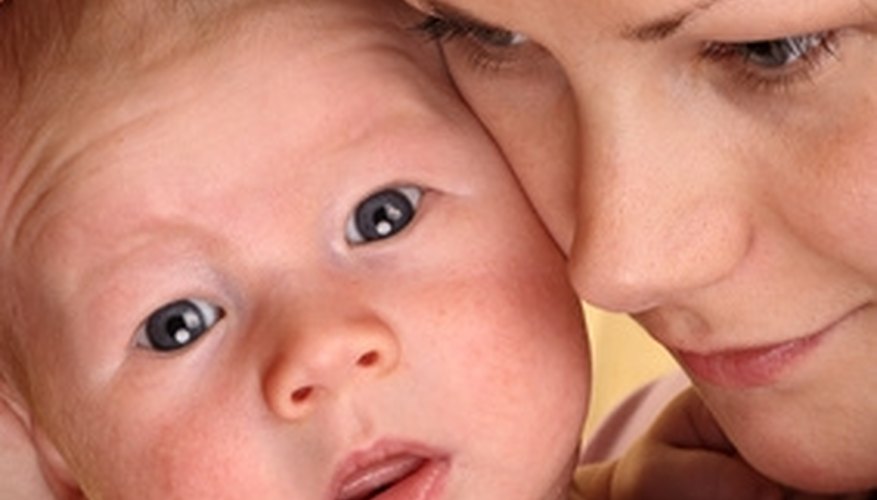 Using too much detergent with cloth diapers could cause them to leak or cause rashes on baby's sensitive skin. Using detergents with whitening enzymes or bleach could also cause rashes or blisters on baby's skin. Wash no more than two dozen at a time, according to the Diaper Jungle website. Don't wash the diapers with other items. Use a laundry pail to keep the diapers sealed until laundering. If your cloth diapers have hook-and-latch tabs, close them before laundering to prevent diaper chains. Washing new diapers before baby wears them increases absorbency.
Place all diapers in the washing machine. Run them through a prewash cycle in cold water, using 1/2 cup of baking soda in the wash. This will remove most of the loose particles from the cloth and neutralize the urine. Baking soda also removes the smell and provides whitening ability.
Wash the diapers a second time with hot water. This time, add 1/2 cup of baking soda to the wash. Baking soda is also effective to use for soaking the diapers in the diaper pail before washing them.
Add 1/2 cup of vinegar to the first rinse. Pour the vinegar in the fabric softener compartment if your washer has one. If your washer doesn't, use a washing machine ball filled with vinegar or add it to the rinse cycle.
Dry the diapers in the sun for extra whitening ability. If you can't dry them in the sun on a clothesline or in a window, place them in a dryer on medium heat. You don't want to bake the diapers and get them too hot.
Tip
Clean the diaper pail each time you wash the diapers.