How to Clean a Jacquard Coach Bag
Coach is most well known for its purses. Although the company manufactures sunglasses, jackets, shoes and jewelry, it has become a household name due to its eather, suede and jacquard purses. The jacquard fabric is used to make the signature "C" style purses. With repeated use, the purse will get dirty. Cleaning can leave the purse looking almost new, as well as remove any stains. Clean the purse only to remove spots or when the purse looks dirty. Constant cleaning can leave behind soap residue or water rings, which can make the purse look even dirtier.
Cleaning the Outside of the Purse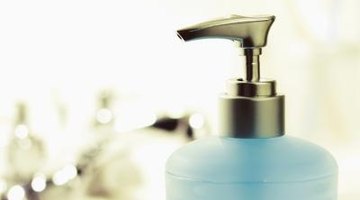 Apply a quarter-sized drop of Coach Signature Fabric Cleaner to a clean, soft, white cloth.

Rub the cleaner into the jacquard fabric in a gentle, circular motion. Continue cleaning until the entire surface of the jacquard fabric has been cleaned.

Dampen a soft cloth with water. Blot the purse to remove the soap residue. Do not rub, as this will work the soap deeper into the fabric.

Allow the jacquard to air dry.
Cleaning the Lining of the Purse
Use a vacuum cleaner to remove dirt and dust from the liner. If you do not have a vacuum handy, you can try lightly shaking the purse upside down to remove dust.

Fill a small bowl with a squirt of liquid dish soap or chlorine-free, bleach-free laundry detergent and lukewarm water.

Dip a soft cloth into the soapy water. Dab at the lining to remove spots and stains. Do not rub, as you do not want the soap to saturate the lining and work its way to the jacquard fabric. For hard-to-remove stains, allow the soapy water to sit on the stain for 15 minutes before rinsing.

Dampen a soft cloth in cool water. Dab at the lining to remove soap residue.

Allow the purse to air dry.
References
Writer Bio
Kallie Johnson began her writing career in 2009, contributing to various online publications. She holds a Bachelor of Arts in English from the University of Nevada, Las Vegas. She enjoys writing home and garden topics and considers herself an expert on do-it-yourself home improvement topics.
Photo Credits
Medioimages/Photodisc/Photodisc/Getty Images
More Articles