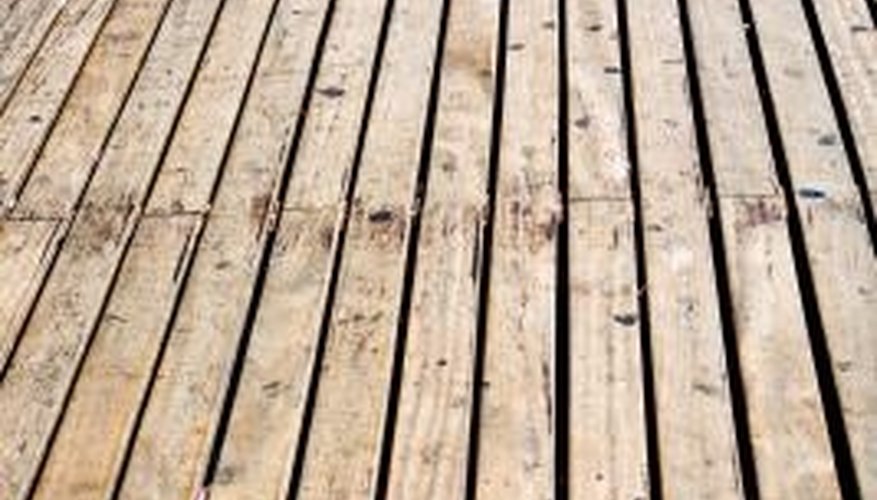 One of the most popular materials for deck construction is wood. Although many homeowners prefer a natural look and stain the deck instead of painting it, some prefer to give it a different color. Seal the deck with a sealant specifically designed for outside paint.
Sweep up dirt and debris on the deck with a broom. Hammer any nails that may be sticking up. Check to see if any areas need to be repainted.
Wipe off the deck with wet rags. Power wash the deck if the paint is covered with severe grime and dirt. Allow the deck to dry for 48 hours. Check to make sure it won't rain for the next two days and the temperature will be over 40 degrees Fahrenheit.
Put on rubber gloves, a painter's mask and eye protection. Paint sealants contain noxious fumes.
Pour an outside wood paint sealant into a sprayer. These products are available at home improvement and hardware stores.
Spray the deck with long even sweeps. Check to make sure the sealant gets under any railings on the deck.
Inspect the deck to see if there are any bumps from the sealant. Sand the surface lightly with a fine sandpaper that is 220 grit or more. Sweep up any dust and debris from the sanding. Wipe the area where you sanded with a damp rag.
Apply at least one more coat of sealant.
Wait 48 hours before using the deck.
Things You Will Need

Broom
Hammer
Rags
Rubber gloves
Painter's mask
Eye protection
Outdoor wood paint sealant
Paint sprayer
Fine grit sandpaper
Tip
Many outside paints already have their own sealant.