How to Recycle Wine & Liquor Bottles
Earn a deposit refund for your wine and liquor bottles if your state has a beverage container deposit law. If you do not live in a state that has a Bottle Bill, recycle your clean glass bottles by using them in craft projects or set them out for curbside recycling. Bins are provided to city residents where curbside recycling is available. Take the bottles to a recycling center. Some cities require separation of clear and colored glass. Contact your local or regional recycling facility to learn the requirements for your area.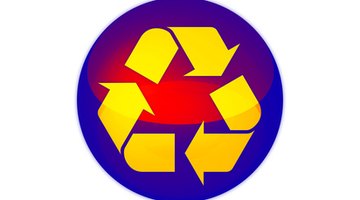 Step 1
Remove the corks or lids from the bottles. Clean the glass bottles well.
Step 2
Place the clean bottles in a recycle bin if your community has curbside recycling services. Check with your local sanitation department for sorting specifications. Set the bin at the curb on the designated day of pickup. Remove the bin from the curb after pickup.
Step 3
Take your wine and liquor bottle glass recyclables to a drop-off center in your area during business hours. Place the glass in the appropriate bins. Some centers require that the clear glass be separated from the colored glass. Others accept mixed glass.
Step 4
Go online to the Earth 911 website. Type in your zip code to locate a recycling center near your area. You may search online or call 800-253-2687 for information.
Step 5
Take the clean bottles to a redemption center or return them back to the retail store if they qualify for a deposit refund. Some states have a beverage container deposit law (Bottle Bill) that allows you to turn the bottles back in for cash. Check your state's qualification status at the Bottle Bill Resource Guide website. The bottles must have been bought in the state and the deposit must have been paid in the same state in order to receive a deposit refund.
Step 6
Recycle the bottles at home. Use them as vases for flowers or candle holders. Craft a hummingbird feeder using the bottle. Wrap copper wire around the bottle, insert a feeding tube and fill the bottle with hummingbird nectar. Go online and use a search engine to find craft ideas using wine and liquor bottles.
References
Writer Bio
Mona Culberson began working on the assembly line at a large manufacturing company in 1983, where she worked her way up into several positions of business responsibility. In 2005, she began a career in roofing, interior design and remodeling. She works daily as a professional painter/home remodeler/handywoman while lending her husband's roofing business a helping hand in her spare time.
Photo Credits
recycling icon aqua button image by onlinebewerbung.de from Fotolia.com
More Articles