How to Recycle AC Compressors
If your air conditioner compressor decides to take a dive you may want to resist the urge to throw it in the garbage unless you are ready to pay a whopping $25,000 fine. This is the amount per day that the Environmental Protection Agency can hit you with for disposing your air conditioner parts improperly. If you want to recycle your air conditioner compressor you are required to have the refrigerant removed by a certified technician before you dispose it off. Contact your local authorities for proper disposal procedures.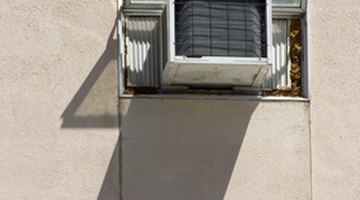 Take the air conditioner compressor to an EPA certified scrap metal recycling center that has the ability properly remove and recycle the refrigerants. If you are a licensed air-conditioning contractor with a valid HVAC license, remove the refrigerant from the compressor and dispose of it in the proper manner before you take it to the center.

Hire a technician with an HVAC license to remove the refrigerant. Upon removal of the refrigerant take the compressor to a recycling center for donation.

Take the air conditioner compressor to your local landfill for recycling or disposal of the unit.

Contact the municipal department of public works in your area to ask what the procedures are for collecting and recycling refrigerant-containing appliances. Inquire about home appliance recycling and recovery programs in your area. Some counties will pick up the appliance.

Contact the electric company in your city and ask if they offer a bounty program in your area. Some utility companies will pick up and recycle the unit free of charge. Some will even pay you for the unit.
References
Resources
Tips
Some utility companies pay "bounties" for appliances. These are also known as appliance turn-in programs.
A scrap metal facility will pay you for the air conditioner compressor.
Writer Bio
Mona Culberson began working on the assembly line at a large manufacturing company in 1983, where she worked her way up into several positions of business responsibility. In 2005, she began a career in roofing, interior design and remodeling. She works daily as a professional painter/home remodeler/handywoman while lending her husband's roofing business a helping hand in her spare time.
Photo Credits
window air conditioner image by Aaron Kohr from Fotolia.com
More Articles