Do I Need a Permit to Replace an Air Conditioner Unit in Florida?
Replacing an air conditioner unit in Florida is considered a construction project by county governments. You must have a permit to replace the air conditioner or you will face a possible fine. In Flager County, Florida, the permit is a simple one-page document titled "Air Conditioning Replacement."
Window Units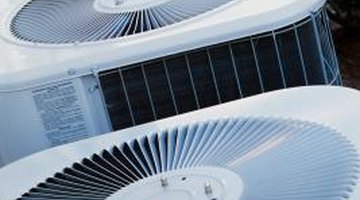 A permit is necessary only if you are replacing the main unit in your central air conditioner system. You do not need a permit to replace a window air conditioner. Window units usually are designed to cool just one room, while central air conditioner systems cool the entire house.
Condenser
The main unit in a central air conditioner system is the condenser. It is shaped like a box and is installed outside the house. If you are replacing the condenser, have it professionally installed by a contractor. The contractor will file the paperwork for the permit.
Licensing
Air conditioner contractors in Florida are regulated by county governments and the state. Counties issue licenses to contractors, and contractors must also register with or receive certification from the Florida Department of Business and Professional Regulation. Busy contractors may visit county offices daily to file permits for installing air conditioner units.
Background
Before hiring a contractor in Florida, get the contractor's license number when he offers you a cost estimate for the replacement. Call the public library for telephone numbers for the local office of the Better Business Bureau and your county's building department. Contact the Better Business Bureau to determine if the contractor has received complaints about his work. Also check with your county government's building department to confirm that the contractor's license is in good standing. This legwork will prevent you from hiring an unethical contractor with an expired license, who would never request a permit to do the work.
Recommendations
Utility companies in Florida usually do not install air conditioner units, but they may suggest contractors in your area. Some utility companies in the state may also provide financing on air conditioner units at reasonable interest rates. Contact your utility company for more information.
References
Writer Bio
Robert Lee has been an entrepreneur and writer with a background in starting small businesses since 1974. He has written for various websites and for several daily and community newspapers on a wide variety of topics, including business, the Internet economy and more. He studied English in college and earned a Bachelor of Arts in liberal arts from Governor's State University.
Photo Credits
Comstock/Comstock/Getty Images
More Articles