How to Decorate a Plastic Container
So many retail items come in plastic containers. Margarine, Chinese food, soda and countless other items that many homeowners purchase each week come packaged in sturdy, plastic boxes or bottles. Instead of tossing these items, decorate and repurpose them in your home. A steady hand, an artful eye and plenty of art supplies are all you need to turn your plastic containers into practical items for your home.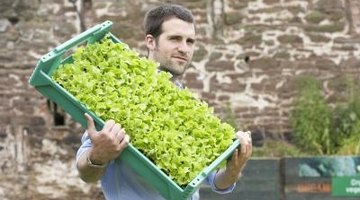 Clean and rinse each of your plastic containers thoroughly. Remove all labels and adhesive. Oil, dirt and labels will prevent your paint from sticking smoothly to the plastic. Let the plastic dry completely before painting.

Place all of your containers side by side on a plastic tarp. Spray paint them with spray primer, making sure to coat the containers thoroughly. You may need more than one coat. Allow containers to dry for 2 hours between coats and for 24 hours after being totally painted.

Choose a design for each of your containers. If you're a skilled painter, you may choose to freehand vines, trees, birds, flowers or even people onto your containers. If not, use sponge stamps to decorate your containers with repeating patterns of polka dots, squares, stripes or animal silhouettes.

Follow the shape and line of each container to make your designs look like they belong. Create your designs so they bend around curves or match up with corners. Allow the paint to dry overnight.

Wrap ribbon around your container. Fill up empty lid edges or give your container a finished look by wrapping ribbon around the top and bottom. Attach the ribbon with hot glue and let it dry for at least 10 minutes.
References
Tips
Try stamping your primed container instead of painting it further. As long as the container has a flat surface, you can stamp it and color it in with watercolor markers or apply embossing powder. Heat the powder to make it textured and shiny.
Turn a plastic container into a "metal" one with metal effects spray paint. Embellish the piece with a few metallic flowers or gears to complete the effect.
Photo Credits
Polka Dot RF/Polka Dot/Getty Images
More Articles