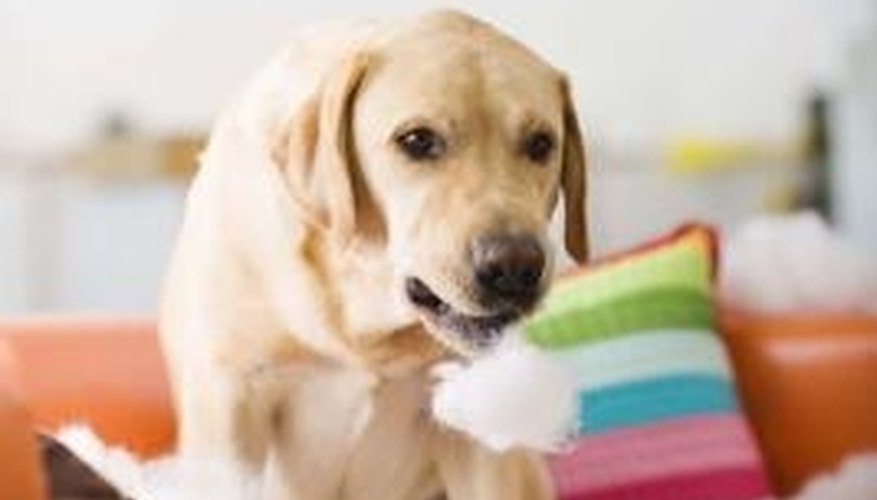 If you have a couch that is functional but looks hideous, you can simply reupholster it and give it a completely new appearance. You also can use this process to save a couch with damaged or punctured fabric and to improve the furniture's cushioning. A freshly reupholstered couch becomes a customized personal item that matches your home decor and your personal taste.
Note the appearance of the couch before you start. Your reupholstering job should roughly match the current shape and thickness of the couch. Take a photo of the couch before you begin for reference.
Cut the old fabric or material from the couch using scissors. Take care when removing the material; roughly tearing it off can damage the couch or cushioning.
Inspect the exposed cushioning attached to the couch, and decide whether to replace or keep the old padding. The supporting cushion may be foam block or loose cushion lying on the couch's frame. If you want to replace the cushioning, simply pull up and dispose of the old cushion and set in fresh new supportive padding.
Measure the fabric around the cushions and couch frame. Add 1 inch to the perimeter of the cushion measurements for a seam allowance. Cut the fabric according to your measurements.
Iron the measured and cut fabric pieces to smooth out any wrinkles in the material.
Staple the new fabric to the couch just as the old fabric was attached. Stretch the fabric over the couch so it doesn't sag as you staple, but not tight enough so the fabric may rip under the pressure of someone sitting on it.
Sew the fabric for the cushion covers. Put the right sides together, and sew with a 1-inch seam around three sides. Then turn the cover right-side out through the space on the fourth side, and insert the cushion through the same space. Sew the seam on the fourth side, or add a zipper or snaps so you can remove the cover for cleaning.
Things You Will Need

Scissors
Sewing needle
Fabric
Sewing thread
Cushion material
Staple gun
Staples
Iron