How Much Does It Cost to Reupholster a Chair?
More than cost needs to be considered in having a chair reupholstered. Decide whether the chair is worth the expense from the guts out. A high-quality chair has solid wood framing, glued and doweled joints and eight-way hand-tied springs. It is cost-effective to reupholster such a chair.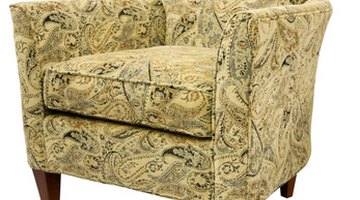 With lower quality goods you can buy new for about the same amount as reupholstering.
Considerations
If your chair is worthy of re-covering, keep in mind that in addition to the labor cost involved, you will have to purchase fabric. Be sure that the fabric you choose will be durable enough to warrant the lofty labor cost. It takes approximately seven yards to do an average wing chair. More fabric is required for matching patterns.
Locale
Reupholstering is labor-intensive. Where the cost of living is above average, expect to pay more.
There are good upholsterers nearly everywhere. Many work from their homes rather than storefronts. Ask to see examples of their work if you are uncertain about the quality.
Add-On Features
Unusual features such as tufting, nailhead trim or asymmetrically cushions, generally cost more to reupholster. Even skirting versus no skirt can bring an extra charge. Also, if the frame needs repair or the springs need replacing, or if the cushions must be repadded, expect an upcharge.
Real Costs
Expect to pay $350 to $550 to have an average easy chair reupholstered--labor only. Most upholsterers will give you a cost estimate free of charge or for a small fee. Add the fabric cost to that figure. Discount fabric stores offer materials starting as low as $3.99, but some designer fabrics cost $60 to $80 a yard or more.
References
Writer Bio
Debra Taylor is a freelance writer whose career experience includes owning an interior design business and a retail frame shop. She also taught elementary school and middle school language arts and has a Bachelor of Arts degree in early childhood and elementary education from Lander University. She continues to be involved with children in an after school program.
Photo Credits
accent chair image by James Phelps from Fotolia.com
accent chair image by James Phelps from Fotolia.com
More Articles