How to Re-Side a Shed
It is important to keep a shed in good condition as a feature in your exterior landscape. Re-siding a shed can be completed by most homeowners as a do-it-yourself weekend project. Install cedar bevel siding on your shed for a classic traditional appearance. Cedar is an ideal option for siding because it is naturally rot resistant. You can leave the siding natural for a weathered look and paint the trim boards to match your exterior trim.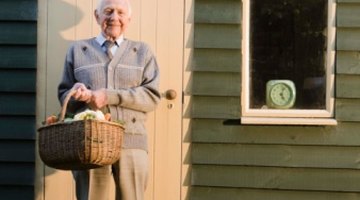 Step 1
Measure each side of your shed between trim boards with a tape measure and make a note of all the measurements.
Step 2
Lay the cedar siding with the back side flat against the table of a miter saw. The top edge should be flush against the saw fence. Measure, mark and cut the siding to length based on the measurements taken. Cut as many boards as needed for each side of the shed as you install them on the shed.
Step 3
Start at the bottom of each side and work your way up the wall to the top. Place the bottom board against the shed framing. Hammer a ring shank nail through the front face of the siding into each wall stud along the length of the board. Position the nails midway down from the top edge of the siding.
Step 4
Overlap the second and following boards on each side of the shed by at least 1 inch to provide a 4-to-6-inch reveal on the bottom of each siding board. Hammer a ring shank nail through the siding boards into the framing studs just above where the top edge of the siding board below it is. Continue installing boards in this manner until the shed is completed.
Tips
Set up a stop block on the miter saw to cut multiple siding boards at the same length.
Warnings
Wear eye protection when re-siding a shed.
Writer Bio
Jonah Morrissey has been writing for print and online publications since 2000. He began his career as a staff reporter/photographer for a weekly newspaper in upstate New York. Morrissey specializes in topics related to home-and-garden projects, green living and small business. He graduated from Saint Michael's College, earning a B.A. in political science with a minor in journalism and mass communications.
Photo Credits
Jupiterimages/Polka Dot/Getty Images
More Articles