How to Splice Bungee Rope
Whether you're tying down luggage to your car's roof rack or just securing cargo to your boat, a bungee rope comes in handy because of its flexible nature. If you need to extend your current bungee rope, or you want to reconnect two halves of a broken rope, one method is to use a splice fastener. This secures the two bungee ropes together, using a tight connection. Installing one takes just a few minutes.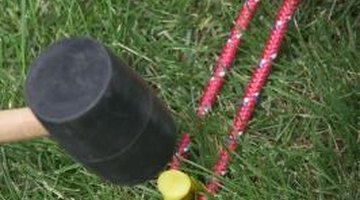 Slide one half of the bungee rope into one side of the bungee splice fastener, with at least 1 inch of rope showing through on the other side.

Slide the second half or portion of bungee rope you want to connect through the other half of the splice fastener, so there is at least 1 inch of rope on the other side.

Drive the stainless steel pins from the bungee splice fastener kit into the holes in the bungee splice fastener using the hammer and following the sequence on the fastener kit. Install all of the pins provided.
References
Writer Bio
Russell Wood is a writer and photographer who attended Arizona State University. He has been building custom cars and trucks since 1994, including several cover vehicles. In 2000 Wood started a career as a writer, and since then he has dedicated his business to writing and photographing cars and trucks, as well as helping people learn more about how vehicles work.
Photo Credits
Jupiterimages/liquidlibrary/Getty Images
More Articles