How to Remove an Alpine CD Player
Alpine CD players fit into a cage in the dashboard of vehicles. This method is secure and easy to install and remove. Alpine CD players are therefore simple to remove when it comes time for servicing or replacement. The fortunate part of this securing method is that, unlike some other brands, Alpine does not require a specialized tool, proprietary to the brand. A small flat head screwdriver is all you need.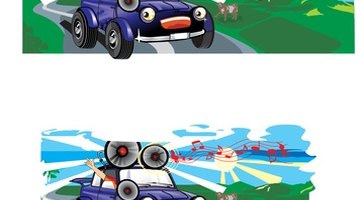 Insert the small flat head screwdriver behind the lower right corner of the CD player's plastic trim ring. Keeping the head of the screwdriver behind the trim ring's edge, slide the screwdriver around the perimeter of the trim ring until it pops off completely.

Insert the flat head screwdriver under one of the securing pins on the side of the radio. Push up on the pins with one hand, while pulling out the radio with the other. This keeps the pins from re-seating.

Press the tab on the wire harness on the rear of the CD player.Pull out the harness, and remove the CD player completely from the dashboard.
References
Resources
Writer Bio
David Lipscomb is a professional writer and public relations practitioner. Lipscomb brings more than a decade of experience in the consumer electronics and advertising industries. Lipscomb holds a degree in public relations from Webster University.
Photo Credits
More Articles