How to Install a Jeld Wen Bifold
Jeld-Wen bifold doors are commonly found on bedroom closets. They help save space by gliding open and come in a variety of sizes to fit all different size openings. These doors can have various designs and either be hollow or solid core. No matter what they are made out of, all Jeld-Wen bifold doors follow the same installation procedures.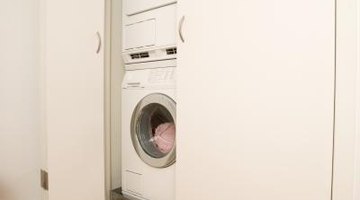 Measure the height and width of the wall opening. Run a tape measure across the width halfway up the opening from stud to stud in the wall. Measure the height from the floor to the stud running across the top of the opening. Record both measurements. The width measurement should be 1/2 inch larger than the door and the height measurement should be 1-1/2 inches larger.

Hammer the pivot pins into the provided hole at the top and bottom of the door. Hammer in the guide along the top at the opposite side. Position the track across the top of the opening and leave 3/4 inch between the front of the opening and the track. Center it and screw it in place with the provided pan head screws.

Position the lower bracket on the floor in the left hand corner. Line it up with the track above and screw it in place with the provided flat head screws. Insert a screw through each hole.

Place the upper pivot pin already installed on the door into the hole at the top left hand corner of the track. Push up slightly on the door and lock it in place along the top. Drop the lower pin into the lower bracket slot. Verify there is a 1/4-inch clearance between the pivot and the door jamb on top.

Predrill a small hole at the desired knob location. Attach a 1/4-inch drill bit to a power drill and make a small hole. Screw the knob into place by hand. Open and close the door to verify it's working properly and isn't catching anywhere.
References
Tips
All the materials will be provided with the door except for those listed in the materials list.
Writer Bio
Alexander Callos began writing in 2005 for "The Lantern" at The Ohio State University and has written for various websites, including Bleacher Report, Top Ten Real Estate Deals and Columbus Sports. He has published articles for CBS Sports, SI.com and other websites. He graduated in 2007 from The Ohio State University with a bachelor's degree in public affairs journalism.
Photo Credits
Jupiterimages/Photos.com/Getty Images
More Articles