How Do I Disassemble Dexter Locks?
Dexter locks are easily disassembled for cleaning, for lubrication, or for reuse. Unfortunately, few of the lock's components are repairable; if your lock is malfunctioning, you'll likely have to replace it. Since Dexter locks are made by Schlage, the disassembly process is similar to the process for Schlage locks. Essentially, the procedure is the reverse of the installation process. Most mechanically inclined individuals can perform this task using common hand tools. Set aside about ten minutes to complete this task.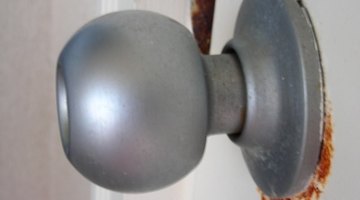 Remove the handle from the lockset. Press a stiff wire (a jumbo sized paperclip works well) into the small hole on the side of the knob or lever. Pull off the knob or lever.

Remove the rosette from the door. Remove the two Phillips head screws securing the rosette. Pull the lockset from the door. Some models require that the rosette be pried off using a screwdriver (a slot is provided for that purpose) before removing the screws.

Remove the two screws securing the lock's bolt to the edge of the door. Pull the bolt from the door.
References
Writer Bio
David Brown began his writing career while still in college, writing and editing research grants and scientific papers. His work has appeared in such journals as "The Journal of Clinical Investigation" and "Gastroenterology." He currently owns a construction company in Boulder, Colo.
Photo Credits
More Articles