How to Install Railings on Stone Steps
Steps can be constructed from wood, concrete and even stone or masonry. If stone is the material used for the stairs, you will want to install an iron railing for stability. Iron railings also provide you with a classic style that enhances the front of your home. Local codes or regulations for your city may require the installation of a railing if you have steps for a porch or entryway into your home.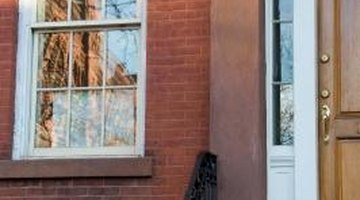 Place the base of the iron railing on the steps at least two inches from the stoop. Set the railing an equal distance from the edge of each step.

Mark the location of the anchors through the mounting holes with the felt tip marker. Set the iron railing aside.

Insert a masonry bit into the chuck of the power drill. Place the drill on each mark and drill a pilot hole into the stone steps.

Insert the anchors into the holes and tap them into place with the hammer.

Set the railing back on the steps. Position the holes in the base of the railing over the anchors that have been placed in the stone.

Insert a lag bolt into one of the mounting holes in the base and tighten with the socket wrench. Repeat this step for each of the remaining mounting holes.
References
Tips
Do not over-tighten the lag bolt or you may crack and damage the stair.
Writer Bio
Cameron Easey has over 15 years customer service experience, with eight of those years in the insurance industry. He has earned various designations from organizations like the Insurance Institute of America and LOMA. Easey earned his Bachelor of Arts degree in political science and history from Western Michigan University.
Photo Credits
Jupiterimages/Photos.com/Getty Images
More Articles