For the Hardwood Look -- Peel and Stick Treads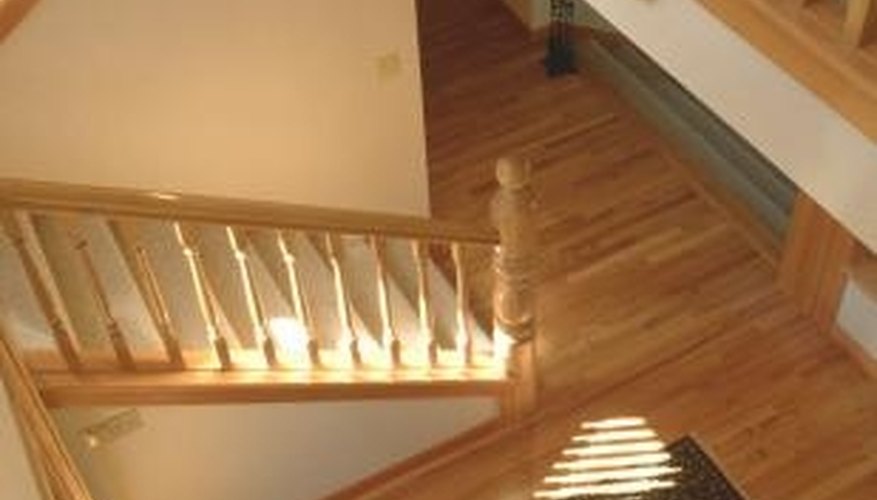 Eliminating the problem all depends on the type of look you're happy with; if you want all hardwood, tread stickers or a coating of traction paint can be helpful. If you're okay with carpeted stairs, you can put individual carpet squares or a runner on hardwood steps.
Obtain peel-and-stick, clear treads for your stairs. In most cases, you will want a longer piece for the lip of the stair and a few smaller pieces for the back.
Clean your stairs thoroughly with a product safe for hardwoods and without shine enhancing properties, as these can make it difficult to get the treads to stick. It can be helpful, especially if you have pets, to vacuum or sweep the stairs before and after cleaning to ensure dirt or hair does not become stuck under the treads.
Apply the treads. Working one at a time, preferably on a day that is not too humid, lay out the treads where you want them and apply them according to package directions.
For the Hardwood Look -- Traction Paint
Sweep and clean your floors thoroughly. If your floor has excessive wax or product buildup, a light sanding may be helpful.
Set up fans at the top and bottom of the stairway and open any nearby windows. This will make for faster drying of the sealant and help to protect you from excessive fume inhalation.
Grab a large, clean mop or floor stain applicator and apply the product per the manufacturer's recommendations. Thin coats, rubbed in until there is no visible wetness, are typically best for most products. If you have many stairs, an airless sprayer can be used to apply the product. (Reference 3)
Wait 24 hours between coats. Most products require two to four coats for maximum traction. Ample drying time and ventilation is required between coats; the hardwood floors should be undeniably dry to the touch.
Carpet Options
Measure the width and depth of your stairs, including any landings or turns. If you plan to leave some hardwood exposed, factor this into your measurements.
Determine how many carpet squares you will need or how long of a runner. When using one large piece of carpet where a landing is involved, it is typically best to obtain two runners for each set of stairs and a separate rug for the landing.
Install your carpet squares or runners securely onto the stairs. You will likely have the option of sticky carpet backing, which is best to reduce damage to the hardwood floors, or finishing nails. With carpet squares, make sure all sides are secure to prevent slipping. If installing a runner, make sure the carpet is not only securely attached to the step itself but also to the rise between steps; not doing so could present a trip hazard.
Things You Will Need

Measuring tape
Hardwood cleaner
Broom
Vacuum
Fans
Carpet nails
Carpet backing
Tread strips
Traction paint
Sand paper
Carpet squares
Carpet runner
Mop
Tip
Make sure that the slipperiness is not due to using the wrong cleaning products; for example, a furniture polish used on hardwood floors can make them slick. Sometimes, a good cleaning is all that is needed to make hardwood floors safe.