How Do I Know the Name of the Brand of My Crib?
If someone has gifted you with a crib for your new baby, you may be wondering about the name of the crib and the maker of the crib. If there is no label on the box that the crib comes packaged in, you may be able to identify the crib by a furniture label tacked to one of the pieces of the crib.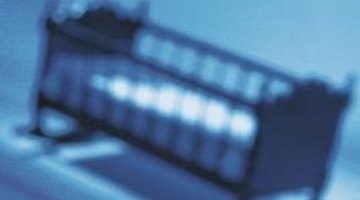 Lie on the ground and slip beneath your crib. Look up. Many cribs and other pieces of fine furniture have paper labels or words printed directly on a flat, wood surface of the furniture. When looking for the label, you will want to look for the widest, flattest surface of the furniture -- which is under the crib.

Read the label attached to the base of the crib. It will list the name of the company, the crib name, and the product code name of the crib.

Look for text printed directly on the wood. Some pieces of furniture have text that looks like it has been painted or burned onto the surface of the wood. You should at least find the company name.

Research name brand cribs and compare the photos of your crib with the photos you find online. This is a last-resort option if you cannot locate a label or text anywhere on your crib.
References
Writer Bio
Vera Leigh has worked as a professional freelance writer since 2008. Her work has appeared in "Learn Overseas" and "Grad Source" magazines. In addition, she received an honorable mention in "Newsweek's" My Turn contest. She has written features for nonprofits focused on literacy, education, genomics and health. In her spare time, Leigh puts her English major to use by tutoring in grammar and composition.
Photo Credits
Ablestock.com/AbleStock.com/Getty Images
More Articles