How to Remove White Film From Antique Wood
Wood furniture is one of the most beautiful assets to have in your home. It is sturdy, dependable and goes with any kind of décor. While well-made antique wooden furniture can last a lifetime, it is still important that it is cared for with the proper attention and the proper cleaning products. Using the wrong kind of cleaning products on your good antique wooden furniture can result in a white, filmy build-up that clings to the surface of your antique wood furniture. Fortunately, it is relatively easy to remove this buildup with basic non-abrasive household products.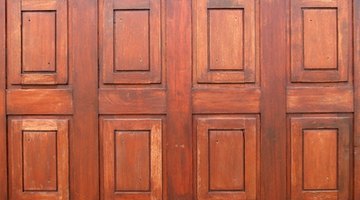 Fill a spray bottle about a quarter full with white vinegar. Add water to the bottle, filling it up. Screw the spray cap on tightly.

Spray the vinegar and water solution onto a paper towel or a soft dry cloth until it is damp.

Run the damp cloth over the surface of the piece of wood furniture. The vinegar should break down the white film.

Dry the surface of the wood immediately with a soft dry cloth, making sure no moisture remains on the furniture.

Apply the wood furniture polish to your piece of antique wooden furniture, following the instructions on the bottle.

Regularly polish your piece of antique wooden furniture using the appropriate polish.
Tips
Test this on a small, less noticeable area of the furniture before trying it all over.
Writer Bio
Ashley Friedman graduated from Sarah Lawrence College in 2003 with a Bachelor of Arts in Creative Writing and Social Sciences. She has experience writing copy for the websites of creative professionals, and regularly contributes to several blogs covering popular culture, travel, food, and social action.
Photo Credits
wooden background image by AGITA LEIMANE from Fotolia.com
More Articles