How to Make the Best Wood Furniture Polish on the Cheap
Store-bought furniture polish sometimes leaves behind a waxy residue; worse yet, it may contain chemicals you prefer not to have in your house. Instead of settling for whatever polish you can find at the store, make your own using natural materials.
Polish From the Kitchen Cupboard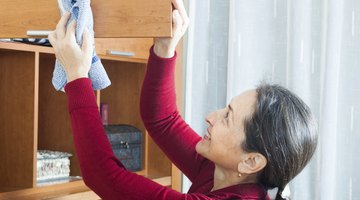 This simple furniture polish, made from items you probably have in your kitchen, takes almost no time to create. Mix 2 tablespoons olive of oil into 1/4 cup of white vinegar into a bottle or jar with a tight-fitting lid. Add 1/4 teaspoon of fresh-squeezed lemon juice or a few drops of lemon essential oil to add a lemony fresh scent. Place the lid on the bottle, shake it up, then pour a small amount onto a microfiber cloth, wiping the wood with the grain. Wipe excess oil off the furniture with a dry microfiber cloth. Keep unused polish in the refrigerator where it will stay fresh for at least a few days if it contains actual lemon juice. If not using lemon juice, the polish requires no refrigeration -- just shake it each time before use to blend the ingredients.
DIY Dusting Spray
If you haven't dusted your furniture in a while -- or even if you have -- a quick wipe with a dusting spray and soft cloth helps clean the wood before applying a polish. Mix 1/4 cup white vinegar with 1 cup water and 1 to 2 tablespoons of olive oil in a spray bottle. Add 10 drops of your favorite citrus-based essential oil for a fresh scent, such as tangerine, bergamot or lemon. Use essential oils -- not fragrance oils -- because they contain no additives. Essential oils are available at some natural groceries and stores that carry herbal products. Place the lid on the bottle and shake it vigorously to blend the ingredients. Spray a small amount onto the the wood furniture, then immediately wipe the liquid off with a microfiber cloth.
Beeswax Balm
Beeswax and olive oil team up for a wood polish that conditions and protects wood furniture, and it's safe -- and edible -- enough to use on wood salad bowls or even as a lotion on your skin. Place 2 tablespoons of beeswax particles into a heat-safe glass vessel such as a mason jar or a measuring cup; a jar comes in handy because you can also use it to store the finished wood polish. Fill the bottom of a saucepan with an inch or two of water, then set the glass containing beeswax into the water, making sure no water gets into the glass -- the water should surround the glass. Heat the pan over low to medium heat, until the beeswax melts completely. Then reduce the heat slightly and pour in 7 tablespoons of olive oil, stirring to completely blend the ingredients. Remove the pan from heat, then carefully lift the glass out of the pan while wearing oven mitts, setting it in an area where it can cool completely on its own. You may also allow the jar to cool while in the water, but it may take longer.
Once the mixture firms up to a soft waxlike consistency, it is ready to use. Apply a small amount onto a microfiber cloth, then wipe down your previously dusted wood furniture. Allow it to soak in for at least 10 minutes before wiping it off with a fresh microfiber cloth.
Tea Time
Black tea rescues wood furniture suffering from waxy buildup or film left behind by chemical-based polishes. Boil some water in a kettle, then steep three or four black tea bags in 1 cup of the hot water. Once the water cools to room temperature, remove the tea bags. Dip a microfiber cloth into the cool tea, wringing out most of the moisture, then wipe the furniture down, following the wood grain. The tannic acid in the tea removes those stubborn waxy buildups. Use only regular black tea rather than decaffeinated or herbal teas, which may not have the same beneficial effect.
References
Writer Bio
Kathy Adams is an award-winning journalist and freelance writer who traveled the world handling numerous duties for music artists. She writes travel and budgeting tips and destination guides for USA Today, Travelocity and ForRent, among others. She enjoys exploring foreign locales and hiking off the beaten path stateside, snapping pics of wildlife and nature instead of selfies.
Photo Credits
JackF/iStock/Getty Images
More Articles