How to Change Thermocouple on a Kenmore 153.336466
The Sears Kenmore 153.336466 is a 40-gallon gas water heater that is part of the Power Miser 6 series. It is designed to be energy efficient and low maintenance. The thermocouple measures the temperature in the pilot light unit to determine if the pilot light is working. A faulty thermocouple may prevent the pilot light from working or could cause other problems with your water heater.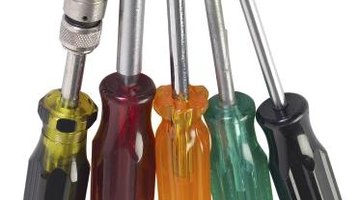 Turn off the gas supply leading to the water heater.

Press the lock tab under the gas control knob on the front of the Kenmore water heater. Turn the gas control knob to "Off."

Loosen the screws holding the access door in place. Remove the door.

Disconnect the thermocouple connections from the gas control assembly with the wrench. Disconnect the pilot supply tube with the wrench.

Lift the burner assembly out of the Kenmore water heater.

Remove the screw holding the thermocouple to the burner assembly. Position the new thermocouple into the assembly. Install the screw that holds it in place.

Replace the burner assembly into the water heater. Connect the thermocouple and pilot supply tube connections.

Replace the access door. Tighten the screws that hold the door in place. Turn the gas supply on.
Check out this related video from Homesteady on Youtube.
References
"Kenmore Power Miser 6 Gas Water Heater Owner's Manual"; Sears, Roebuck and Co.; 2007
"Troubleshooting and Repairing Major Appliances"; Eric Kleinert; 2007
Writer Bio
David Clair began writing for websites in 2001, creating online marketing content for business owners. He has written for Internet companies including eBay and creates training materials for an online education company. Clair is studying technical writing and pursuing an Associate of Arts in information technology from the University of Phoenix.
Photo Credits
Hemera Technologies/PhotoObjects.net/Getty Images
More Articles