How to Light a Pilot Light on an Admiral Oven
Admiral makes ovens that have either a pilotless ignition or a pilot light to light the burners when you turn them on. An Admiral oven pilot light should stay lit after the first time you light it. However, drafts caused by opening a door can blow the oven's pilot light out. You can light the oven's pilot again immediately, as long as the oven has not filled with gas.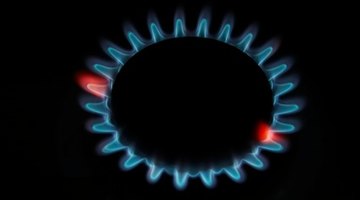 Open the oven's broiler door and let any unlit gas escape.

Remove the broiler pan. Locate the pilot on the burner at the back of the oven.

Push in the "Oven Temp" knob while it is in the "OFF" position.

Light a match and hold it to the pilot until it ignites. Blow out the match.

Release the "Oven Temp" knob. Replace the broiler pan and shut the door.
References
Writer Bio
Mary McNally has been writing and editing for over 13 years, including publications at Cornell University Press, Larson Publications and College Athletic Magazines. McNally also wrote and edited career and computer materials for Stanford University and Ithaca College. She holds a master's degree in career development from John F. Kennedy University and a bachelor's degree from Cornell University in counseling.
Photo Credits
Gas flame on the kitchen gas-stove image by Peter Ivanov from Fotolia.com
More Articles