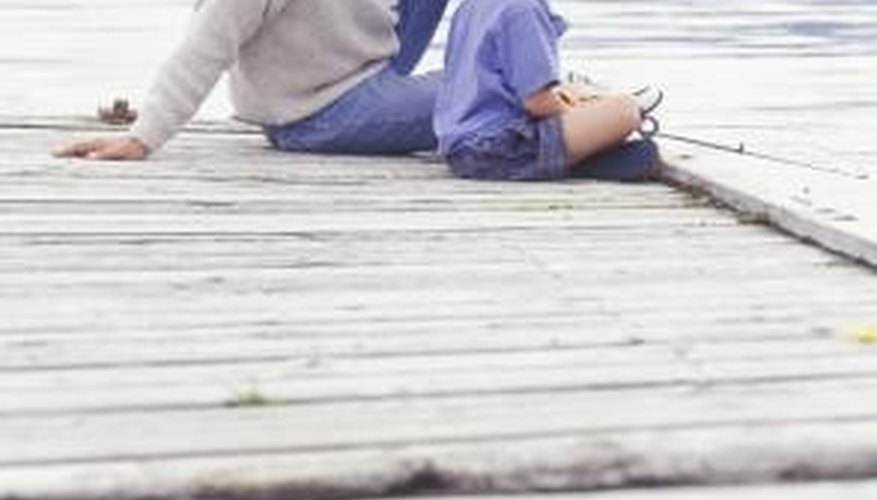 Whether for swimming, boating, fishing or just catching some sun, a floating dock is an easy project that will provide hours.
Measure and cut four 2 by 6-inch sections in the length desired for your dock. Make it no less than a 10-foot square to be large enough for multiple people and roomy enough for activities, depending upon your preference. Drill and screw the four sections to make the external frame.
Measure and cut cross pieces for the frame. Drill two holes in the exterior of the frame and screw through into the end of the cross members. Consider drilling pilot holes into the cross member ends to prevent splitting. Place the cross members at no less than every 18 inches.
Measure and cut additional 2 by 6-inch pieces to build two squares around each barrel. The squares should be long enough to completely go around the barrel. Place the squares around the barrels at each end and attach another piece of 2 by 6 across the opening of the squares to keep the barrel in the frame. Attach the barrel frames to the underside of the dock on each corner. If you have a larger dock, consider using additional barrels. Seal all possible weak points or punctures in the barrel with caulk before floating the dock.
Cut and attach decking material perpendicular to the cross members. I recommend using either 1 by 6, although 2 by 6 will also work if you have enough. You can also use plywood, laminate or just about anything. You can also cover that with any number of materials, from astroturf to tile if you so choose.
Place your dock where you want it. If not too deep, sink a pole into the bottom of the body of water on two corners of the dock and attach. Make sure to leave at least three feet of pole above the water to allow the dock to rise and fall with water level changes. If deeper than 10 to 12 feet, attach a chain to an anchor or bundle of cinder blocks. Drop the anchor where desired, making sure that the chain is not too loose, but not completely tight.
Things You Will Need

Measuring tape
2 by 6-inch board
Saw
Drill
Brass or bronze screws
4 empty 55 gallon drums (plastic preferable)
Caulk
Tips
If you want to connect your dock to the land, repeat the steps for building the dock with the walkway. Make it as wide as the 55-gallon drum and place drums at least every 8 feet.

Some people choose to tie the drums onto the bottom of the dock rather than frame them in. It will save time and be easier, but it will not last as long.