How to Keep a Door From Being Broken Open With a Pry Bar
An intruder can use a pry bar to compromise a door's security in multiple ways. If a burglar can't pry a door's lock open, for instance, he may gain entry by using a steel pry bar to pry the frame from the wall, to raise a sliding door or to break a door's glass. By addressing each of these vulnerable areas, you make doorway entry extremely difficult for an intruder who relies on the pry bar. Consider replacing heavily weathered or flimsy doors for additional protection.
Sliding Glass Doors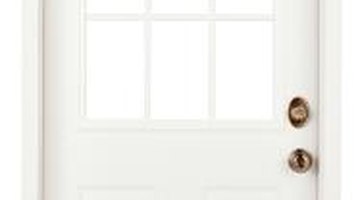 Step 1
Attach a "Charlie bar" to a sliding glass door's lower track, following the Charlie bar manufacturer's installation instructions. A Charlie bar locks into position in the door track, making it impossible for a person outside the home to force a door to slide open. Place a thick wooden dowel or metal rod in the lower track as a temporary measure.
Step 2
Drill a hole where the door frames overlap through the upper left corner of the interior frame and about halfway into the upper right side of the exterior frame. Place a bolt or nail through the hole to lock them together.
Step 3
Drill pan-head screws into the upper track so the heads sit immediately above the upper edge of the door. This prevents an intruder from prying the door up from the lower track.
Step 4
Install a full-height folding metal gate with a lock across the interior portion of the doorway to prevent intrusion in case of shattered glass.
Single Exterior Doors
Step 1
Install a deadbolt with a throw that extends a minimum of 1 inch.
Step 2
Install a latch guard that has a flange in place of the ordinary strike plate, which is what the bolt enters in the locked position. Use 3-inch-long screws to secure it to the studs in the wall.
Step 3
Fill gaps between the door frame and wall with plywood shims, and pay special attention to the areas immediately surrounding the latch guard or strike plate for your lock.
Step 4
Install a security grid if the door has a glass pane.