How to Remove a Lock From a Storage Unit
Storage units come in all shapes and sizes and most are secured with some kind of lock, be it a padlock, combination lock or otherwise. If you've lost your key or forgotten the combination, you're going to have a difficult time getting in.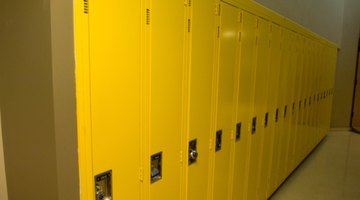 To remove the lock, take a few tips from firefighters who remove locks in the course of duty. A few different techniques can get those locks off in just a few minutes.
Things You Will Need
42 inch bolt cutters
Halligan bar
Sledgehammer
Battery operated rotary tool
Cut-off wheel
Place the jaws of the 42 inch bolt cutters around the shackle of the lock. Close the cutters to attempt to cut the shackle off of the lock. If this doesn't work, proceed to the next step.

Tilt the lock so that the shackle of the lock is parallel to the ground. Insert the pointed end of the Halligan between the shackle and the storage locker. Hit the opposite end of the Halligan with a sledgehammer to separate the shackle from the lock.

Another technique is to install the cut-off wheel into the battery powered rotary tool. Cut the shackle off of the lock with the tool.
References
Writer Bio
Russell Wood is a writer and photographer who attended Arizona State University. He has been building custom cars and trucks since 1994, including several cover vehicles. In 2000 Wood started a career as a writer, and since then he has dedicated his business to writing and photographing cars and trucks, as well as helping people learn more about how vehicles work.
Photo Credits
Jupiterimages/Photos.com/Getty Images
Jupiterimages/Photos.com/Getty Images
More Articles