How to Make Squirrel Twirlers
A squirrel twirler is a device used to feed squirrels. They're typically found in gardens or on decks. Ears of corn are most commonly used on the twirler, which features four or more "skewers" that rotate around a large screw or nail. Some squirrel lovers will also place other foods on the twirler, including bananas, cucumbers and apples. A squirrel twirler can be mounted on a tree in your garden or yard, on the side of your house or on deck posts. These simple squirrel feeders can also be used to divert hungry squirrels away from your bird feeders.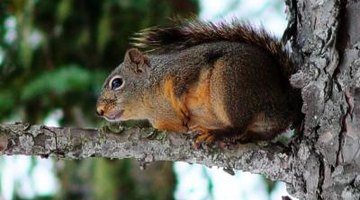 Drill a hole in the center of the wood square. The hole should be slightly larger than the diameter of the 5-inch screw, but no larger than the head of the screw. The wood square should spin freely around the screw.

Run the 3-inch nails or screws through the wood square to serve as skewers. The nails should be situated approximately 1/2-inch in from each of the four corners.

Attach the wood block to a tree, deck post or other squirrel-friendly location by running the 5-inch screw through the hole situated at the center of the block. The block should spin freely, with the "skewers" facing away from the tree.

Cut two ears of corn in half and place one on each of the four skewers.
References
Leigh Maynard, Master Gardener, Cape Coral, Florida
Tips
Place the twirler beside a branch, porch railing or similar perch so the squirrels can sit comfortably while accessing the snacks.
For added appeal, add a coating of peanut butter or honey to dried corn, bananas and other treats.
Some treats will disappear very quickly, so place treats on the twirler right before you intend to begin squirrel watching.
Warnings
Avoid using a "pinwheel" design for your squirrel twirler, as bare skewers could stab and injure squirrels who are climbing near the treat dispenser.
Squirrels won't eat the corn cob, so leave cobs on the skewers to protect wildlife from injury due to the sharp tips.
Photo Credits
Thinkstock Images/Comstock/Getty Images
More Articles