How to Attach a Flag Pole to Brick
Outdoor flags make a patriotic statement and add character to your home. Attaching a flag pole to a brick wall is a little more challenging than attaching a flag bracket to wood siding, because you will first need to mount special masonry or cement anchors into the bricks.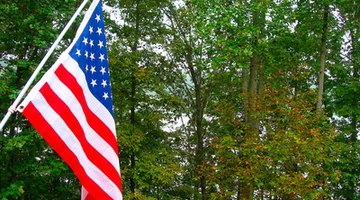 These anchors expand as you tighten the fastener, which gives the flagpole fitting a firm grip into the brick. You can purchase anchors at any home improvement center or hardware store.
Things You Will Need
Flag pole bracket
Flag pole
Pencil
Drill
Masonry bit
Cement or masonry anchors
Hammer
Socket set or Phillips-head screwdriver
Position the flag pole bracket with the top mounting holes near the center of one brick and the lower mounting holes near the center of the brick below. Keep the bracket away from the individual brick ends to avoid cracking or splintering the bricks.

Hold the flag pole bracket in position and mark the mounting holes onto the brick with a pencil or marking pen.

Drill holes in the brick at the marked spots with an appropriately sized masonry bit. The proper drill bit size will be printed on the anchor package. Tap the concrete or masonry anchors into the holes in the brick with a hammer until they are flush with the brick.

Position the flag bracket pole over the anchors and secure with the anchor screws. You will need to use a socket wrench or a screwdriver to tighten the mounting screws, depending upon the type of fasteners supplied.

Loosen the thumbscrew on the flag pole holder and insert the flag pole. Tighten the thumb screw to secure the flag pole into position.
References
Writer Bio
Kenneth Crawford is a freelance writer with more than 10 years of experience. His work has appeared in both print and online publications, including "The American Chronicle." Crawford holds an associate degree in business administration from Commonwealth College.
Photo Credits
american flag image by jedphoto from Fotolia.com
american flag image by jedphoto from Fotolia.com
More Articles