How Are Buffet Lamps Used?
Buffet lamps are often used at parties to light the serving tables. They are recognizable by their long, narrow necks and small shades which are designed to focus the light down at the desired spot. These lamps are designed to take up very little room on the table while at the same time providing enough light that the people serving themselves can easily see what they are taking from the food dishes.
Serving Tables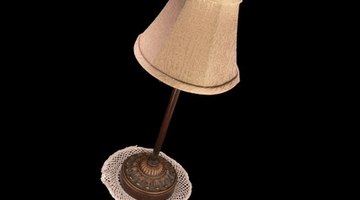 Low Level Lighting
Buffet lamps are also often used on small tables such as end tables and coffee tables. They provide low level lighting which is great for small rooms or small illumination areas, such as a secretary's desk, a china cabinet or a corner of the room that requires a bit more light. Buffet lamps, with their low level light, also make good bedside lamps for reading or other night-time illumination purposes.
Mood Lighting
Buffet lamps can be used for gentle mood lighting, such as in restaurants where the overhead lighting might be kept dim to add a romantic element to the ambiance. Buffet lamps are often quite elegantly designed, which also adds to the mood of this type of lighting. Colored light bulbs can be used with these lamps to also add ambiance to a party or event.
References
Resources
Photo Credits
More Articles