Can I Use Wood Furniture on a Screened-In Porch?
A screened-in porch is a welcome addition to homes, providing outdoor space to relax without the intrusion of insects. Yet, even with a screen in place, furniture and accessories receive some exposure to the elements. Therefore, any functional or decorative pieces used in the space must be able to withstand the elements. Some types of wood, and other options, are suited for the job.
Sealed Wood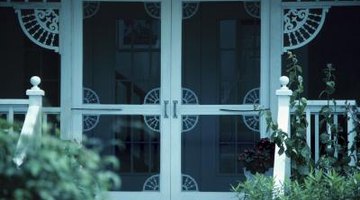 Using sealed wood pieces on a screened-in porch accentuates the natural outdoor element and in durable pieces. Wood pieces made of redwood, cedar and teak are ideal for a screened-in porch. Teak can be left outdoors year-round and over time will patina to a silvery color if exposed to the sun if left in its natural state. Aesthetically, stain the pieces to complement a porch's color scheme, and the stain will guard against fading in the future.
Less Sustainable Wood
Perhaps it is your goal to outfit a screened-in porch with some wood furniture pieces you already have. In this case, there are some wood types that will not fare well in harsh outdoor elements. Traditional pinewood is one of them. Oak and rubber wood are two other types that are economical, but when compared to more durable types such as teak and eucalyptus, they will not hold up over time.
Resin Sofas
To achieve the look of wicker or wood, use resin. It is 100 percent weather-resistant, it is an economical choice and it stays cool to the touch.
Iron and Aluminum Sofas
Although they carry substantial weight and are difficult to rearrange, iron furniture pieces are durable and can withstand many years of use. Use all-weather cushions to make the seating more comfortable and to shield against heat. In contrast to iron, aluminum furniture pieces are lightweight but still offer the metal look sought by many homeowners. Iron pieces fare well under all outdoor conditions, and quality pieces last for more than 30 years.
Considerations
Before selecting any furniture piece for a screened-in porch, carefully measure the area to ensure the items will comfortably fit into the space. Think, too, about how the pieces will be used, in terms of the number of guests or family members who will use the space. Be sure it is reasonably accommodating to meet those needs.
References
Writer Bio
Stephanie Green is a writer with more than 10 years of experience. Her work has been published in various lifestyle and trade publications, covering parenting, gardening and human-interest stories. Green holds a Bachelor of Arts in English.
Photo Credits
Hemera Technologies/Photos.com/Getty Images
More Articles