Can You Put a Regular Couch Outside on a Covered Patio?
Covered patios provide a retreat to enjoy the outdoors with some protection from the natural elements. However, this covered setting does not protect furnishings as completely as an enclosed patio. Furnishings such as seating and accent pieces must be able to hold up in the environment. While it may be tempting to repurpose an indoor couch for outdoors, chances are it will not fare well exposed to the elements, but there are some sofa options that do stand up to the conditions on a covered patio.
Regular Couch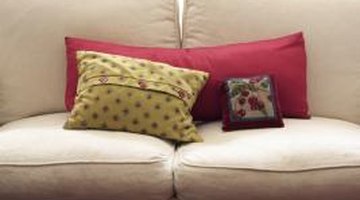 Traditional sofas or couches are designed for indoor use. Depending upon the manufacturer, they have a metal or hardwood frame. Less durable frames are constructed from soft woods like spruce and pine. Often, upholstered couches are treated with a stain conditioner to safeguard against the buildup of spills, stains and dirt, but are not designed to hold up against outdoor elements.
Wood Sofas
Patio sofas made of cedar, teak or redwood will stand up to a range of weather conditions; redwood will also resist rot. The pieces can be stained to prevent fading, which occurs over time.
Resin Sofas
For the look of wood or wicker but material that stays cool to the touch, resin is the best option. It is 100-percent weather-resistant and is one a relatively inexpensive material.
Iron and Aluminum Sofas
Because of their weight, iron sofas are cumbersome to move, but are durable and can withstand years of use. To make iron sofas more comfortable, it is best to outfit it with an all-weather cushion to guard against heat. Aluminum sofas are lightweight. They withstand all outdoor elements, and a quality sofa can last for over 30 years.
References
Writer Bio
Stephanie Green is a writer with more than 10 years of experience. Her work has been published in various lifestyle and trade publications, covering parenting, gardening and human-interest stories. Green holds a Bachelor of Arts in English.
Photo Credits
Goodshoot RF/Goodshoot/Getty Images
More Articles