Pressure Treated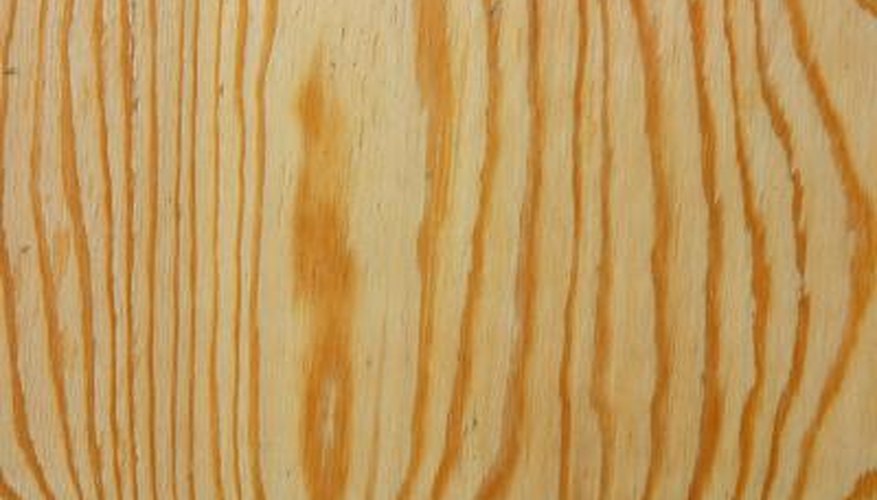 Manufacturers use heat, adhesives and pressure to create boards with surprising strength for a composite wood product. They also apply a variety of special treatments to plywood for specific uses like exterior building.
Most of the treated plywood used in construction is pressure-treated. This means the manufacturer used a sealed container to force chemicals into the wood through high pressure according to Simpson Strong-Tie. Harder woods, such as the heartwood of any tree, make even preservative or pest deterrent application difficult. Pressure treating forces chemicals deep into the sheet of plywood without damaging or weakening the finished product. Chemicals sprayed onto the surface of other types of treated plywood only penetrate to the core of soft woods.
Chemicals
Manufacturers treat their plywood products with a wide variety of different chemicals to protect the wood from damage. Preservatives prevent the wood from rotting and including chemicals like creosote, acid copper chromate (ACC) and pentachlorophenol, says the Engineered Wood Association. These chemicals also deter wood-eating insects like termites and prevent the growth of mold or fungus. Some plywood features a treatment designed to slow the spread of fire, but the exact chemical mixture used for these boards isn't clear.
Uses
New construction requires the use of treated lumber like plywood in a variety of parts of a home or building. Any wood, including the sills or plates of walls, that is within 6 inches of exposed soil must be treated with a preservative according to Raised Floor Living. In areas where daily rain or high humidity makes rot more prevalent in crevices between walls treated plywood keeps the walls intact. Areas with heavy termite infestations also utilize treated plywood for a greater variety of uses to prevent insect damage.
Concerns
The arsenic found in a common treated plywood preservative, chromated copper arsenate (CCA), raised health concerns when studies found it could spread into the home if wood treated with it was used for residential building, says Simpson Strong-Tie. Most plywood treatments act corrosively on metal as well, so only galvanized and other protected nails or plates work for building with this material. Builders who use treated plywood and nails without corrosion resistance put the integrity of the structure at risk.