Dimensions of a Portable Toilet
Portable toilets are a common sight at construction jobs or during large-population events where normal restrooms are either not available or will not be sufficient to cover the needs of the masses. Most portable toilets have a standard size and standard dimensions both inside and out, though there are the occasional exceptions to the rule.
Outside Dimensions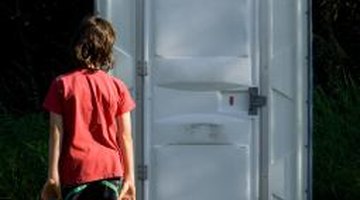 Standard portable toilets will stand at around 91 inches high, give or take an inch, and will usually have an outside width of 44 inches and an outside depth of 48 inches.
Inside Dimensions
The space inside a portable toilet is usually pretty cramped, with the inside width measuring 42 inches and the inside depth measuring 21 inches. The other 26 inches or so of depth are taken up by the toilet and tank.
Weight
A basic portable toilet will weigh around 200 pounds stone-empty. This weight will change depending on how many clients it's serviced recently. Most portable toilets come with a tank that holds between 60 and 75 gallons, depending on the manufacturer.
Handicapped-Accessible Toilets
By their very nature, handicapped-accessible toilets need to be larger than their standard counterparts. Handicapped toilets will typically be around 77 inches deep and wide, and around 90 inches tall. Most of the extra space is given to floor space -- around 60 inches of turning space -- for the handicapped person to turn his wheelchair appropriately. These toilets also weigh an extra hundred or so pounds, usually coming in around 330 pounds in total.
References
Writer Bio
Joshua Benjamin began as a professional freelance writer in 2009. He has successfully published numerous articles spanning a broad range of topics. Benjamin's areas of expertise include auto repair, computer hardware and software, firearms operation and maintenance, and home repair and maintenance. He is currently pursuing a Bachelor of Business Administration from California State University, Fresno.
Photo Credits
Jupiterimages/Photos.com/Getty Images
More Articles