Toilet Widths & Heights
People usually do not think about the specific width and height differences among toilets, but these variations can be important parts of your bathroom make-up.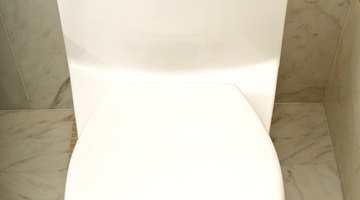 From higher rising commodes that are perfect for the extra tall person to shorter versions that may be more suitable for a child's bathroom, toilet sizes can vary significantly.
Toilets for Kids
Any parent or teacher who has been around young children knows that little kids need little toilets. A standard-sized commode will leave shorter legs dangling and may even be the cause of accidents for a child who cannot climb onto the seat quickly. Although a child-sized toilet often is impractical within the home, most preschools, daycares and elementary schools typically must have these pint-sized versions in their bathrooms. The American Disabilities Act (ADA) even includes guidelines for the installation of toilets in public buildings, such as schools. For example, the height of a child-sized toilet (from the floor to the top of the bowl) should be no greater than 12 inches for pre-kindergartners and 15 inches for kids in kindergarten through grade six.
Standard Sizes
A standard, or typically-sized, toilet for adult use may have subtle variations in size depending on the manufacturer and shape. Most contemporary toilets are roughly 14 to 19 inches tall. Bowl size depends on whether you are choosing a round front or elongated design. Round front bowls, on average, measure to 27 inches, with the elongated style being a larger 29 inches. Additionally, the height of the water tank will create extra inches for any toilet. For example, although an elongated model by American Standard has a bowl that sits 16 1/2 inches above floor level, the full height is 30 3/4 inches with a width of 15 1/8 inches.
Tall Toilets
Taller sized toilets are a perfect fit for the larger individual, and may be necessary for people with disabilities. According to the ADA, accessible bowl heights must reach between 17 and 19 inches. Overall dimensions for tall-type toilets typically are at least 30 1/2 inches for overall height from floor to the top of the tank and 20 1/4 inches for the entire width. As with any toilet product, these dimensions may vary among manufacturers. Differences may be most notable among products for commercial and residential uses.
Small Spaces
If you have an older house, chances are that you have a smaller-sized bathroom. While modern facilities are made to be spacious areas, the bathrooms of yesteryear were made to be purely functional. Updating an older bathroom may necessitate a small-sized toilet. Although these commodes are tiny compared to their contemporary counterparts, they are made for adult use and are not the same as a child's toilet. Often called a compact toilet, a small-sized model is approximately 26 inches tall and 22 inches wide.
References
Writer Bio
Based in Pittsburgh, Erica Loop has been writing education, child development and parenting articles since 2009. Her articles have appeared in "Pittsburgh Parent Magazine" and the website PBS Parents. She has a Master of Science in applied developmental psychology from the University of Pittsburgh's School of Education.
Photo Credits
Jupiterimages/Photos.com/Getty Images
Jupiterimages/Photos.com/Getty Images
More Articles