How to Measure Setback for Toilet
When installing a toilet in a room that does not have an existing toilet, determining the proper installation location is critical to ensure that toilet is accessible to everyone, particularly those that use the assistance of a wheelchair.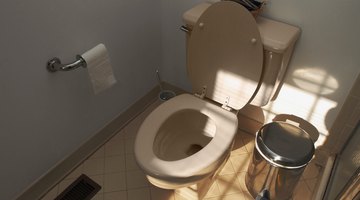 Things You Will Need
Tape measure
Straightedge
The distance between the walls and the toilet is commonly referred to as setback. A minimum setback of 18 inches is necessary to maximize the use of the fixture.
Position the edge of a tape measure against the wall located behind the toilet, and mark a distance 18 inches away from the wall on the bathroom floor. This mark represents the distance the center of the toilet bowl must be from the wall.

Measure 18 inches from the wall or object closest to one side of the toilet. Mark this measurement on the bathroom floor.

Connect the two marks with a line. Use a straightedge to ensure that the line is straight. This line represents the available locations where you can install the toilet with the correct setback. Remember that the line provides the location of the center of the bowl, not the front of the toilet.
References
Ten Pound Books: Home Improvement Guide; Ken Fund
Writer Bio
John Stevens has been a writer for various websites since 2008. He holds an Associate of Science in administration of justice from Riverside Community College, a Bachelor of Arts in criminal justice from California State University, San Bernardino, and a Juris Doctor from Whittier Law School. Stevens is a lawyer and licensed real-estate broker.
Photo Credits
Medioimages/Photodisc/Photodisc/Getty Images
Medioimages/Photodisc/Photodisc/Getty Images
More Articles