Smallest Reasonable Dimensions for a Full Bathroom
Many bathrooms are designed with basic family needs in mind. Because storage space in a small, full bathroom is often limited, it's important that the room is kept neat and as free from clutter as possible. Attractive shelves for towels and using the space below the sink for personal items helps to remedy storage issues. Selecting fixtures smaller than the standard sizes for the toilet and bathtub can make a small bathroom seem larger. Still, even a small, full bathroom must have reasonable dimensions.
Single-Sink Bathroom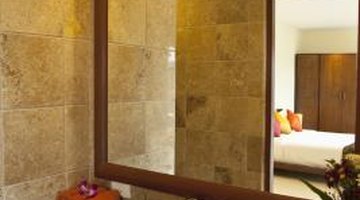 A small, standard, full bathroom is normally rectangular shaped and at least about 5 by 7 feet. It has a toilet and also contains a bathtub and shower combination or just a walk-in shower. The sink is mounted with a vanity or stands alone on a pedestal. A larger size standard bathroom might have room for two sinks. Vanities have doors and drawers for storage space of personal and bath items. Standard bathrooms are used by guests as well as family members.
Double-Sink Bathroom
A vanity with a double sink increases the room's necessary size to slightly more than the size that a small standard bathroom requires. The smallest reasonable dimensions for a bathroom with a double sink vanity are 7 by 9 feet.
Master Bathroom
A master bathroom is connected to the main bedroom and is generally not used by guests. The average size of the master bathroom varies according to the accommodations, but it often is 100 square feet or greater. Double sinks are often included in a master bathroom, and they provide extra storage room below the vanity. The toilet often is located in an adjoining room that is considered part of the bathroom's square footage. Besides a shower, the room most likely includes a large bathtub or a whirlpool.
Bathroom Planning
The standard bathtub size is 60 inches long and 30 or 32 inches wide. Many bathrooms are designed to fit the tub against three walls. The sink or vanity top's height depends on the home's occupants. The standard height is 30 to 34 inches from the floor. Taller people can accommodate their personal needs by raising the height to their comfort level. To relieve the feeling of a cramped bathroom, consider a smaller bathtub and toilet to create more floor space.
Writer Bio
Emma Lee owns a photography website and also works as a freelance writer specializing in home improvement, animals and photography. Her work can be found on various websites. Lee attended Charles County Community College located in Maryland.
Photo Credits
Comstock Images/Comstock/Getty Images
More Articles