The Minimum Ceiling Height for Bathrooms
Bathroom ceilings have a minimum height dictated by both national and local standards, primarily for safety and comfort purposes. However, other factors affect the ideal minimum height for practical and aesthetic purposes. Things like skylights, chandeliers and desired mood affect how tall the ceiling should measure.
Recommended and Required Minimum Height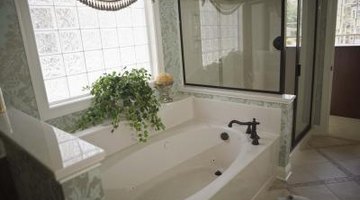 The National Kitchen & Bath Association recommends a minimum bathroom ceiling height of 6 feet, 8 inches for good design. This applies to areas above any fixtures and the front entrance, as well as the tub and shower area. Local building codes may vary from this recommended height, however. For instance, Seattle residential codes require a minimum of 84 inches over at least half of the area. While these measurements only apply to a portion of the bathroom, the ceiling may not slant so low that someone could hit her head or would have to crouch.
Skylights
A skylight can bring natural rays into an otherwise dark bathroom, adding to the aesthetic appeal. In an especially tiny bathroom, the addition of light can make the room seem more spacious. A shaft skylight can increase the ceiling height in a certain area, though minimum floor to ceiling measurements still apply. A light shaft measuring 3 or 4 feet higher than the ceiling can add substantial architectural interest, and a larger skylight can bring in an abundance of light.
Chandeliers
Bathrooms with chandelier fixtures have a minimum ceiling height for practical purposes. A very small chandelier or pendant may be placed in a bathroom with a shorter ceiling, but it must be in a safe area to prevent anyone from bumping into it. Ceilings should measure at least 9 feet tall for medium-size chandeliers. Higher ceilings look attractice with larger fixtures to fill the space and add depth and interest to the room.
Other Considerations
While a high ceiling in your bathroom creates an elegant and luxurious effect, a shorter one is appropriate for intimate spaces. This works especially well in medium or large bathrooms that can seem vast and impersonal with 10-foot ceilings. An 8-foot ceiling creates a more intimate, welcoming nook, especially if you're incorporating a powder room area or dressing table. For an especially cozy bathing nook around a separate tub, lower the ceiling height but incorporate a tray ceiling design that mimics the shape of the bathtub.