What Length to Hang a Chandelier in a Bedroom
Turn your bedroom into a romantic retreat with a chandelier. Not just for the dining room anymore, chandeliers have become more common in bedrooms in recent years as homeowners have discovered that chandeliers are an easy way to add a dramatic, stylish focal point. When hanging a chandelier in the bedroom, you have several placement options, and each option has a hanging height range that looks and works best.
Over a Bed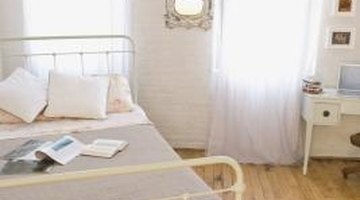 If you have a pretty bed with lovely linens, hang a chandelier over your bed. The chandelier's light will illuminate your bed, and the chandelier itself will draw the eye to your bed. You may choose to hang the chandelier centered over the bed or closer to the head or foot of your bed. Either way, hang it high enough to ensure you won't bump your head on it when you're sitting in bed or getting in and out of bed, but not so close to the ceiling that it becomes unnoticeable. While 7 feet above the floor is standard for overhead lighting, you can go a foot or two lower with a chandelier over a bed since no one will be walking underneath it. Ask a friend to hold up the light in several positions as you determine what looks and feels best for you.
In the Middle of the Ceiling
If your new chandelier is to hang in the middle of your bedroom ceiling in place of a ceiling fan or standard overhead light fixture, hang it so that the lowest point is at least 7 feet from the floor, which ensures that family members and guests in your home will not bump their heads on your pretty light fixture.
Over a Nightstand
Hanging a small chandelier over each nightstand in place of a reading lamp is an unexpected but attractive way to illuminate your bedside table. Hang bedside chandeliers about 20 to 30 inches above your nightstand, which is about the height of a standard bedside table lamp, which allows ample lighting for reading and also leaves enough space for a stack of books, your clock and a drink of water.
Over a Desk or in a Reading Nook
Another spot in your bedroom that a chandelier can brighten is over a desk or next to a cozy reading chair. While hanging the chandelier 30 to 36 inches above the desk is recommended, trial and error is your best bet for finding the right height over the chair. With the height of your favorite reading lamp in mind, find a height that is slightly above eye level when you're sitting in the chair, ensuring the height allows the chandelier to illuminate the pages of your book.
References
Writer Bio
Sandra Rousseau has been writing since 1990, covering such topics as home decorating, fashion, health, beauty, gardening and cooking. Her articles appear her hometown newspaper, the "Aledo Community News," and on various websites. Rousseau holds a Bachelor of Arts in journalism and advertising from the University of Texas at Arlington.
Photo Credits
Thinkstock Images/Comstock/Getty Images
More Articles