Low-Wattage Stoves for Cabins
Finding a low-wattage stove for a cabin can often be tricky since most full-size electric models run an average of 2,000 watts per hour. However, plenty of alternative low-wattage cooking stoves are available for cabins, a convenience that many cabins necessitate due to rural location or rustic construction. Smaller cabins may also benefit from miniature cooking stoves or apartment-size models. Wood-burning stoves also remain another option.
Portable Cooking Stoves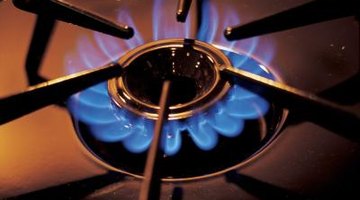 For small cabins where space is a premium, installing a large oven and stove is not always an option. However, cooking on a portable cooking stove is a viable option for many cabins and vacation homes. Because of the small, portable nature, these stoves typically can be found as single burners for under 1000 watts. Not only is space saved, but electricity usage is also kept low. Portable single-burner electric stoves are available at most discount retailers or local shops that carry small kitchen appliances.
Gas-Powered Stoves
Although many may be under the assumption that gas-powered stoves do not use electricity, many of the newer ones do. Electric ignitions are often installed in order to power the pilot light and keep the flame going. This process typically only uses around 350 watts of electricity, making gas-powered stoves a viable option for cabins with minimal electrical capacity. Of course, there are always alternative gas stoves available that do no use an electric ignition, though they are harder to find.
Mini-Stoves
Although portable stoves are convenient for smaller cabins, most people require more elaborate stovetops to fully equip a cabin kitchen. For those without the option of gas-powered stoves, mini-stoves remain an option. Mini-stoves, often found in apartments, condos and other small dwellings, can offer a wider range of cooking while still saving on electricity wattage. Choose a model that does not have a clock or other digital reader on its face to ensure it is lower watt. These stoves are often found online through specialty shops and catalogs.
Wood-Burning Stoves
Sometimes, a cabin's location, size or aesthetics make it difficult to run electricity or even gas and propane. This is when wood-burning stoves take center stage. They are most often found and used in rustic, old-country style cabins settled in the woods or a forested region. Wood-burning stoves require no electricity and have a dual function of providing heat for the room as well. Many antique models are available at flea markets, antique shops or rummage sales. Newer replica models are also available at specialty shops.
References
Writer Bio
Rachel Campbell has been writing professionally for several years. Her work has appeared in print magazines such as "Ft. Thomas Living" and "Bend of the River." Campbell holds a Bachelor of Science degree in biblical studies and psychology from Cincinnati Christian University. As a garden enthusiast, Campbell enjoys discovering new varieties of flowers and plants.
Photo Credits
Comstock/Comstock/Getty Images
More Articles