Trowel Size for Mosaic Tile
Mosaic tiles are unique in that they can be used in a variety of formats to compliment other tile projects. They're small tiles that can either be installed individually as part of a larger piece of art, or they can come in sheets that are meant to be installed similarly to large tile squares. The installation methods for mosaics are the same as for any other tile, although the size of the notch on the trowel is different.
Mosaic Tiles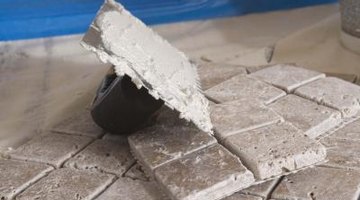 Thinset mortar is used to install tile and operates as a binding element to bond the tile in place. A trowel is used to apply the thinset, with notches that vary in depth to apply an adequate amount of thinset mortar in which the tile will sit. Mosaic tiles require smaller notches on trowels because the tiles are smaller, and you want just enough thinset, with no excess.
Trowel Size
The specific trowel size for your mosaic tiles will depend on the size of the mosaic and the type of tile. While a 1/8-inch notch will generally provide adequate coverage for ceramic or porcelain mosaics up to 2 inches, natural stone mosaics generally rely on a 3/16-inch notch due to the requirement for slightly more thinset mortar, because of the inherent differences in depth and size of the natural stone tiles.
Oozing Thinset
If the notch on your trowel is too large the first sign will be thinset oozing up between the tiles through the grout joints. While too much thinset isn't necessarily a bad thing, it does make the grouting process far more difficult because you have to cut the thinset out of the joints with a utility knife first. For best results always use a trowel that suits the size of the tile perfectly.
Uniformity
The best tile installations are completely flat, although not necessarily level. To achieve flatness the thinset mortar must be applied in a smooth, even layer that provides just enough adhesive for the tile to bond, but not so much that the tiles are pushed up by excess mortar. While the exact size of the trowel depends on the size of your mosaics, your goal should be to apply just enough thinset for a flat installation.
Writer Bio
Tim Anderson has been freelance writing since 2007. His has been published online through GTV Magazine, Home Anatomy, TravBuddy, MMO Hub, Killer Guides and the Delegate2 group. He spent more than 15 years as a third-generation tile and stone contractor before transitioning into freelance writing.
Photo Credits
Jupiterimages/Comstock/Getty Images
More Articles