What Type of Screws Are Used With Redwood?
Redwood, naturally rot resistant and attractive, is a common choice for play sets and decks. Redwood resists cracking and warping, and almost any screw will work in a pinch. However, to prolong the life of your redwood project, select screws that don't rust or corrode. Use heavy-duty screws to support the weight of the wood, and follow all local building codes.
Aesthetics and Cost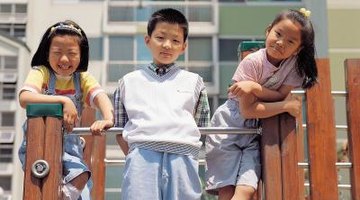 When choosing screws for redwood, consider the type of project and quality of construction. For a high-priced, custom deck, select high-end stainless steel screws that will complement the deck's appearance. For a redwood play set, double-dipped galvanized screws suffice because you are probably not as concerned with the aesthetics.
Durability
Higher-priced fasteners are usually more durable. Stainless steel is the most durable, although hot-dipped galvanized screws and aluminum screws make economical and sturdy alternatives. Avoid coated steel fasteners because the coating wears off over time. Electro-plated fasteners may become corroded with time. Rust may stain the redwood over time.
Safety
Choosing the correct hardware can impact not only the appearance and durability of the deck or play set, but its safety, as well. Improperly installed decks have been known to pull away from the house, causing serious injury or even death, according to "This Old House" magazine. Use noncorrosive screws and bolts rather than nails to secure the deck to its foundation or the house.
Further Recommendations
Buy the best fasteners you can afford. Your investment will pay off later in a safe and sturdy play set or deck. When installing screws, fill the screw hole with a silicone caulking, which prevents moisture from seeping into the hole after the screw is installed. Rotted screw holes are a frequent cause of deck failure. Check the deck or play set annually for signs of rust or rotting, and replace any rusted screws.
References
Resources
Writer Bio
Julie Christensen is a food writer, caterer, and mom-chef. She's the creator of MarmaladeMom.org, dedicated to family fun and delicious food, and released a book titled "More Than Pot Roast: Fast, Fresh Slow Cooker Recipes."
Photo Credits
Photos.com/Photos.com/Getty Images
More Articles