Insulating the Bathroom Walls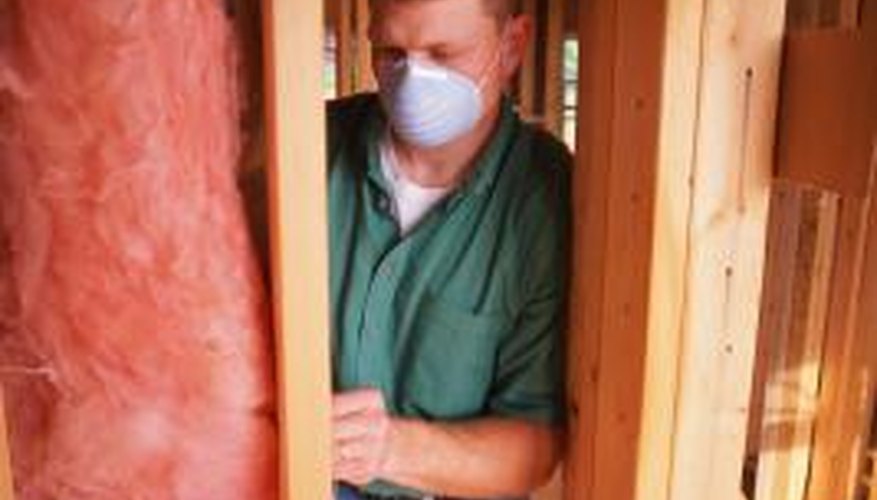 This helps to keep the house at the desired temperatures during the winter and summer months. But to obtain maximum energy efficiency, insulate interior walls, including bathrooms, when building a new house. Adding insulation to internal walls serves a dual purpose: Besides keeping the temperature even in that room, it helps reduce noise and increases privacy.
Bathrooms are one place you want to ensure privacy by adding insulation to the walls. Besides keeping the temperature in the bathroom constant, adding insulation to the bathroom walls will add an extra layer of privacy and comfort to the users in the bathroom. Add a vapor barrier inside the bathroom on the external side of the insulation before adding cement backer board for tile, or plasterboard, depending on how the bathroom walls are finished. Add caulk to the bottom plate and the sill plate for added noise reduction.
Insulating All Interior Walls
Insulating interior walls happens in the same manner as installing fiberglass insulation in the exterior walls. Fiberglass batts sized to fit the height of the wall are placed between studs. If the insulation is faced with paper, the installer uses a handheld hammer-type staple gun to secure the insulation in place along the stud. When the insulation isn't faced with paper, it will still stay in place because it is light and fibrous.
Insulating After the Fact
Blown-in insulation is one way to add insulation after the home is built. The installer drills a small hole in the plasterboard high up on the wall and inserts the end of the insulation blower tube into the hole to add the interior insulation. The machine sends the insulation into the cavity and doesn't harm electrical outlets, piping and wiring.
Tax Savings for Energy Efficiency
The federal government offers tax incentives for homes built with energy efficiency in mind. Some of these credits extend to 2016 and beyond. Credits for adding insulation last through the 2011 tax year and also affect heating, air-conditioning and ventilation equipment, new roofing materials, water heaters and low-e windows, doors and skylights.