Oil Based Varnish Vs. Water Based Varnish on Wood Decoupage
Decoupage, the age-old art of adhering fabric or paper to wood, can turn ordinary furniture and accessories into something special. The material is fragile, though, and must be protected with several coats of varnish. What type of varnish you use might vary depending on the project, but oil-based varnish is usually a more practical choice than water-based types.
Durability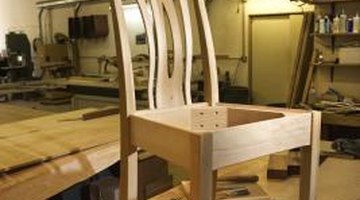 Oil-based varnishes are more durable than water-based types, and the more coats of varnish you apply, the stronger the finish. While this might not be a major consideration if you're decoupaging a wall hanging or picture frame, durability does matter when decoupaging furniture that will receive heavy use.
Application
The process for applying oil- and water-based varnish is the same -- brush the varnish on, allow it to dry, sand it slightly, and add another coat. However, the two products behave somewhat differently. Oil-based varnishes go on smoothly, but they are slow to dry and can accumulate dust. Water-based varnishes dry quickly, but the dried finish might contain bubbles or brush marks. A heavily decoupaged piece might hide any imperfections, but oil-based varnish is more forgiving for the beginner.
Clean Up
Clean up is the one area where water-based varnishes are the obvious winner. To clean up oil-based varnishes, you'll need a solvent, such as mineral spirits. Brushes are soaked in the mineral spirits and then dried. To clean up water-based varnishes, simply run brushes and trays under running water. Water-based varnishes have fewer solvents, making them safer for the environment and your health.
Recommendations
Oil-based varnish is probably the best choice for most decoupage projects. It resists water damage and dries to a clear, hard shine that will protect the decoupage from scratching or peeling off. When choosing a varnish, though, avoid oil-varnish blends, which contain tung or linseed oil that penetrates the wood but doesn't provide the hard, clear coating needed to protect decoupage.
References
Resources
Writer Bio
Julie Christensen is a food writer, caterer, and mom-chef. She's the creator of MarmaladeMom.org, dedicated to family fun and delicious food, and released a book titled "More Than Pot Roast: Fast, Fresh Slow Cooker Recipes."
Photo Credits
Jupiterimages/Comstock/Getty Images
More Articles