The Height of a Wet Bar
A wet bar is a functional feature in a living space that allows you to serve beverages to family members and guests. A wet bar differs from a regular bar because it includes a sink with running water, making drink preparation and clean up quick and efficient. If you install a wet bar in your living room, den or kitchen, place it at a height that accommodates the sink and complements the layout of your home.
Standard Height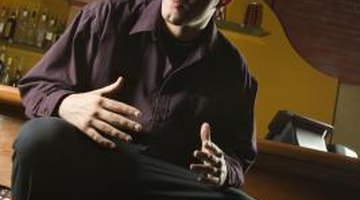 The standard height for a wet bar is 42 inches from the floor to the top of the counter. Both Crown Point Cabinetry and Ask the Builder recommend installing a wet bar at a height of 42 inches. This height accommodates the average adult and allows leg room for bar stools. This height is slightly taller than the average 36-inch kitchen countertop, designed to accommodate adults and adolescents.
Custom Built
Custom-built wet bars can accommodate almost any height. If you have existing countertops, wall units or shelving that requires a bar height above or below 42 inches, many carpenters, contractors and wet bar manufacturers can construct a wet bar to meet your specifications. Measure your wet bar space and contact a carpenter to discuss your specific needs.
Bar Stool Height
If you plan to use bar stools with your wet bar, consider the standard height of a bar stool to ensure that your countertop height provides enough leg room. According to Crown Point Cabinetry, the standard bar stool height is 30 inches. This height is determined by measuring the distance from the floor to the top of the stool seat. A 30-inch bar stool is designed so that a 42-inch wet bar countertop will provide space for people to sit comfortably without their thighs rubbing against the underside of the countertop.
Storage Needs
Wet bars can include storage space for glassware, beverages, bottles, condiments, silverware and cleaning products. Some wet bars have small refrigeration areas for storing alcohol and other beverages. Depending on the height, width and length of the wet bar, storage space and shelving can be incorporated into your design, which could be a straight run, an L or a U shape.
References
Writer Bio
As curriculum developer and educator, Kristine Tucker has enjoyed the plethora of English assignments she's read (and graded!) over the years. Her experiences as vice-president of an energy consulting firm have given her the opportunity to explore business writing and HR. Tucker has a BA and holds Ohio teaching credentials.
Photo Credits
Creatas Images/Creatas/Getty Images
More Articles