What Is the Difference Between Pub & Bar Tables?
Pub and bar tables are dining tables deriving their names from commercial restaurant furniture used in British pubs or bars. Some designs have become adopted as home furnishings in the United States. The terms pub and bar table are not used consistently; however, some standards have been established by the United States furniture industry.
Types of Dining Tables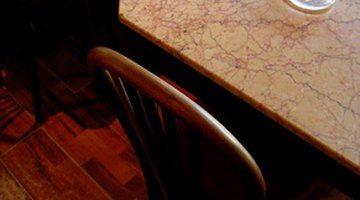 When planning the purchase of a table for your dining room, kitchen, bar or patio, you need to know the standard dimensions of the four main types of dining tables sold in the United States: the regular dining table, the cafe table, the pub or bistro table (the terms are used interchangeably), and the bar table.
Dining Tables and Cafe Tables
Dining and cafe tables are distinguished from pub and bar tables by their height. Both types are 28 to 30 inches high to accommodate regular dining chairs. Dining tables generally have larger tops than cafe tables. Oval shapes range from 36 to 72 inches, rectangular tops from 60 to 80 inches. Definitions overlap; smaller dining tables may also be called cafe tables, especially models with round and oval tops. Cafe tables are always small with tops of 36 to 48 inches. A cafe table may also be called a "cafe pub table."
Pub/Bistro and Bar Tables
Pub/bistro and bar tables share small tops but differ in height to be used with either counter or bar stools. Pub/bistro tabletops range from 34 inches to 36 inches to be used with 24- to 26-inch counter stools. Bar tabletops range from 40 to 42 inches, matching 28- to 30-inch bar stools. Bar tables match the height of a bar. Bar tables are sometimes called "tall pub tables."
Standard Dimensions
According to Bill Kovalich of WoodBin.com: "Most standards used by commercial furniture designers are based on average-sized people. That is, they try to accomodate 90 percent of the population ... in the United States, furniture for women is built for the majority whose heights range from 5-foot-2 to 5-foot-8; for men, the majority range is 5-foot-8 to 6-foot-2; for unisex (men and women combined), the average used is 5-foot-8. If you do not belong to the average group, consider an adjustable-height pub/bar table.
Planning Your Dining Arrangements
Pub and bar tables are suitable for intimate dining and where space is limited. Plan the height of your chairs to match your table. Nine to 13 inches of leg space between seat and table top is considered most comfortable. Standard bar tables or pub/bistro tables will seat no more than two to four guests. Allow 28 to 30 inches of seating space per person or 24 to 28 inches between chairs.
British Pub or Bar Tables
Britain table terminology is different. Pub furniture manufacturers sell many sizes and shapes of tables under the name "pub table." Most are dining-table height to be used with regular chairs. They are sold and categorized according to style, such as the traditional Wellington, refectory and shaker tables. "Poseur" tables--bar tables with very small round tops to place drinks on--are popular in British bars.
References
Resources
Garth Graves: The Woodworker's Guide to Furniture Design
Writer Bio
Christine Vincent began writing professionally in 1986. Her fields of interest include Catholicism, language learning, parenting, children's literature, health and nutrition. Vincent holds a Master of Arts in English from the University of Utrecht, the Netherlands.
Photo Credits
More Articles