Can I Walk on My Ceder Shake Roof?
Cedar shake has been used as a roof covering material for centuries. Good quality cedar shake, or shingles, can last for 30 years or more. They have the advantage of being an all-natural insect-repellent substance. Cedar shake comes in a variety of thicknesses, lengths, grades and levels of fire resistance. Cedar shake roofing or siding may need occasional maintenance to keep it looking good, but unless you are a trained roofer you should not walk on a cedar shake roof.
Cedar Shakes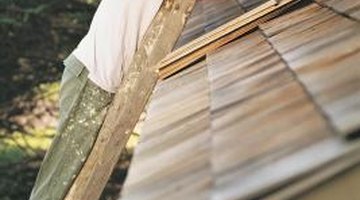 Cedar shake is distinguished from cedar shingles by the planks' cut and dimensions. A piece of shake is typically 18 inches to 24 inches in length and have a butt thickness of at least 1/2 inch. Premium quality shake is hand-split, then sawn diagonally with a band saw. Shake may be pressure-treated with a fire retardant to meet local building codes. High-quality cedar shake usually costs more than other roofing materials, such as asphalt shingles, but cedar shake roofs are valued for their natural beauty, environmental friendliness and resistance to decay.
Damage
High-quality cedar shake is tough, flexible and resilient, but it is not designed to bear excess weight. You can damage your cedar shake and the structure supporting it if you walk on your shake roof. Individual shake planks may crack or split, particularly around the nails. If a crack or split is minor, it should not cause a problem; but large cracks or splits may allow moisture to penetrate, resulting in a leak.
Safety
The Cedar Shake and Shingle Bureau advises homeowners to refrain from walking on cedar shake roofs for safety reasons. Cedar shake can become extremely slick when it gets wet, which plainly creates a dangerous environment for anyone on the roof. Refrain from walking on a wet cedar shake roof.
Cleats
You may be able to gain traction on a cedar shake roof by wearing roofer's cleats. Roofer's cleats will leave small indentations in the shake but usually don't cause permanent damage. The natural properties of cedar shake causes it to rebound to a normal state of appearance over time.
References
Writer Bio
Mike Parker is a full-time writer, publisher and independent businessman. His background includes a career as an investments broker with such NYSE member firms as Edward Jones & Company, AG Edwards & Sons and Dean Witter. He helped launch DiscoverCard as one of the company's first merchant sales reps.
Photo Credits
Comstock/Comstock/Getty Images
More Articles