Telescopic Ladder Stairs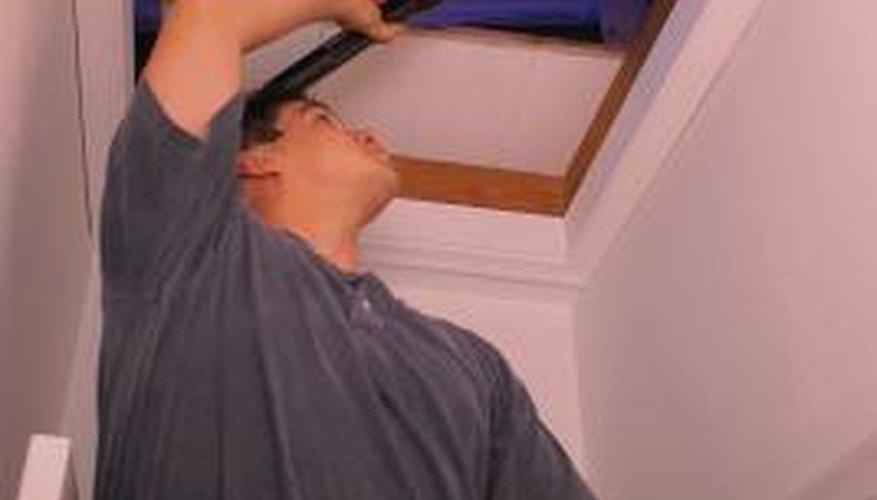 Historically, attic stairs were constructed of wood and made to pull down and then fold up and away. Attic ladders today are typically made of aluminum, and many are telescoping attic ladders, which are designed with a different shape than the usual steps. The best attic stairs are the ones that will work for you and your needs according to your attic space and access dimensions.
Older wooden fold-away stairs to access your attic were designed like stairs with steps going up. Telescopic ladders are considered better because their linear design takes up less room. If made of aluminum, they are also more lightweight and they last longer. Many telescopic attic stairs are made to accommodate attics that are situated in tight spaces, such as hallways or closets.
Attic Ladder Sizes
The best attic ladder for your home is one that is the right height and fits the dimensions of your attic opening. Typically, attic stairs range in height from 7 to 10 feet high. The average attic ladder will safely accommodate 250 pounds. If someone heavier than that will need to access the attic, look into purchasing attic stairs that will safely hold more weight.
Telescopic Multi-ladders
If you need a ladder that will access your attic and can be used for additional purposes, the best ladder may be a multi-ladder. These ladders will extend up to 13 feet high; however, they can also be adjusted down to a small step stool. Attic multi-ladders can also accommodate various shapes to enable you to reach difficult areas to access.
Where to Shop for an Attic Ladder
Most home improvement stores sell attic stairs. Alternatively, go online and review various attic ladders and how to install them. When you know which kind of attic stairs will work best in your home, another option is to purchase attic ladders online and have them delivered right to your door.