The Best Windows for High Altitude
Home builders take extra precautions when installing windows into a home located at a high elevation. Windows that are manufactured for use at lower elevation than the home will suffer from excessive pressure, and could begin to leak. The best windows for higher elevations should have breather tubes or capillary tubes, which help to relieve the pressure between the glass panes.
Breather Tubes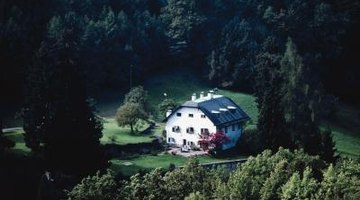 Windows that have breather or capillary tubes are usually manufactured at lower elevations. The tube is installed between two panes of glass. When installing the windows at high elevations, the breather tube's pressure will be equalized and the tube sealed off. Breather tubes are normally made of aluminum. They measure 3 to 6 inches in length. After mounting the windows, the end of the breather tube can be crimped shut. When transporting the window to a higher elevation, a breather tube often allows moisture to enter between the glass panes.
Capillary Tubes
Capillary tubes are usually 12 inches long. They are usually made of steel, but can also be made from aluminum. The tubes sit between the window's glass panes. Unlike breather tubes, capillary tubes are not crimped off after installation, but left open. Leaving them open allows them to tolerate barometric changes. The small openings allow air to enter, but not water. The tubes help to relieve the excessive pressure in windows because of high altitudes. Windows made with capillary tubes are especially constructed for high altitude locations. Installing the windows in a lower elevation region will result in a window with a limited lifespan, according to Cardinal Glass Industries Company.
UV Protection
The sunlight at higher elevations tends to be far more intense. The sunlight will fade furniture and carpets over time. The best window choice for a high elevation is one that provides UV protection. UV protected windows will reduce the sun's glare and prevent the home's interior from suffering damage and fading. Windows for high altitudes usually have a glazing to prevent UV penetration that has been applied to the outside of the window's surface prior to installation.
Low-emissivity
Windows with a low-emissivity coating help to keep a home at a higher elevation warm. According to the U.S. Department of Energy, windows with a low-emissivity coating cost 10 percent to 20 percent more than standard windows, but will ultimately reduce energy loss by 30 percent to 50 percent. The low-emissivity coating will last 10 to 15 years on the window's surface. It will not peel or become visually unpleasant as it ages.
References
Writer Bio
Based in Oregon, Kimberly Sharpe has been a writer since 2006. She writes for numerous online publications. Her writing has a strong focus on home improvement, gardening, parenting, pets and travel. She has traveled extensively to such places as India and Sri Lanka to widen and enhance her writing and knowledge base.
Photo Credits
Jupiterimages/Photos.com/Getty Images
More Articles