Kenmore 80 Series Dryer Capacity
Kenmore offers a choice of four different capacities in its 80 Series Tumble Dryers. Three of these capacities -- "King Size," "Super Capacity" and "Super Capacity Plus" -- take similar-sized maximum loads. "Extra Large Capacity" models hold slightly less laundry.
Bathroom Towels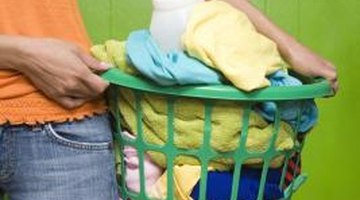 "Bathroom Towels" is the only laundry category with an identical recommended maximum load across all five capacity versions of the Kenmore 80 Series Dryer. Items of this type placed in the drum should never exceed the weight of the following: 10 bath towels, 10 hand towels, 14 washcloths and one bath mat.
Mixed Load
Mixed washer loads contain different types of items. In the case of Extra Large Capacity dryers, an example of the recommended maximum load weight is three double sheets, four pillowcases, eight T-shirts, six pairs of shorts, two blouses and eight handkerchiefs. The recommended maximum load weight for King Size, Super, and Super Capacity Plus machines is one king and two twin sheets, four pillowcases, nine T-shirts, three blouses, three shirts and 10 handkerchiefs.
Heavy Work Clothes
There is also a difference in the recommended maximum weight to be dried in the case of heavy work clothes. In Extra Large Capacity dryers, the load should be no heavier than three pairs of pants, four pairs of jeans, two pairs of overalls and three shirts. In the case of King Size, Super Capacity and Super Capacity Plus, nothing heavier than the following load should be placed in the drum at any one time: four pairs of pants, four pairs of jeans, two sweatshirts, two sweatpants and four shirts.
Delicate Loads
Delicate items require careful drying as well as careful washing. The recommended maximum weight of load for all four capacities includes three camisoles, one robe, four slips, two sets of sleepwear and one child's outfit. King Size, Super Capacity and Super Capacity Plus dryers can handle, in addition, eight undergarments. Extra Large Capacity dryers take only six additional undergarments.
Load Weights
The above examples of dryer loads are designed to give guidance on the size and numbers of items a Kenmore Series 80 dryer can cope with. There are also some golden rules you should adhere to when placing items into your Kenmore dryer. The drum must not be packed, and laundry should be loaded loosely. There must be plenty of room for the items to tumble properly.
Writer Bio
Belfast-based Neil Greenlees was made redundant in March 2009 after working as a reporter for 26 years. For most of his career he was a senior journalist with ''The Ulster Star," a weekly newspaper covering the Lisburn and South Belfast areas. Greenlees holds the National Council for the Training of Journalists Pre-Entry Certificate.
Photo Credits
Jupiterimages/Brand X Pictures/Getty Images
More Articles